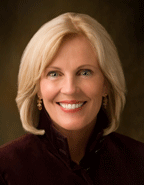 Elaine S. Dalton
Elaine S. Dalton was born and raised in Ogden, Utah. She received her bachelor's degree in English from Brigham Young University.
Sister Dalton married Stephen E. Dalton in the Salt Lake Temple. They are the parents of five sons and one daughter, with a growing number of grandchildren.
Sister Dalton enjoys running and hiking with her family and dancing with her granddaughters. She loves to read, especially the scriptures, and she loves the Lord. She has a deep admiration for the young women around the world and firmly believes that one virtuous young woman, led by the Spirit, can change the world.
Her favorite scripture and life's motto is found in Proverbs 3: 5-6 "Trust in the Lord with all thine heart and lean not to thine own understanding. In all thy ways acknowledge Him and He shall direct thy paths."
Adapted from http://www.mormonnewsroom.org/leader-biographies/elaine-s-dalton
Show More