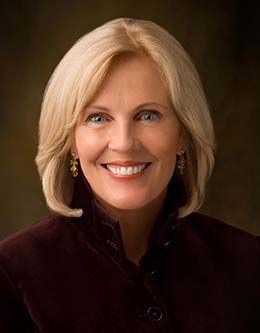 Elaine S. Dalton
Sister Elaine S. Dalton is best known for the time she spent serving as the Young Women General President of the Church of Jesus Christ of Latter-day Saints. She was born and raised in Ogden, Utah and received her bachelor's degree in English from Brigham Young University. Her relationship with her husband has always been based off of a spiritual foundation, which is how she made the decision to marry him. She is the mother of five sons and one daughter. Some of Sister Dalton's hobbies include running and hiking. She loves spending time in the outdoors with her family. To her, being a mother has been the most rewarding experience in her life.
She was called to serve as the Young Women General President in 2008 and concluded her service in 2013. During that time, she gave ten talks in General Conference. Her talks encouraged young women to embrace their divine identity and use their gifts and talents to change the world. Sister Dalton's life motto is found in Proverbs 3:5-6, which reads, "Trust in the Lord with all thine heart; and lean not unto thine own understanding. In all thy ways acknowledge him and he shall direct thy paths." Under her direction, the value of virtue was added to the Personal Progress program and the Young Women's theme. Sister Dalton made this change through the inspiration of the Spirit. She hoped to help women and girls everywhere to understand their divine nature even more clearly.
Sister Dalton's unconditional love for the young women she meets on a regular basis is what helps her stand out in a crowd. She is loved and admired for the hard work she did with the Lord's guidance as the Young Women General President. Though her time of service in that calling is now over, the talks she has given at BYU continue to inspire individuals to remember who they are and who they have the potential to be.
---
---