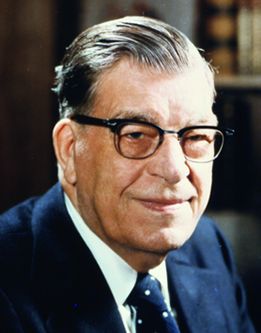 Elray L. Christiansen
ElRay LaVar Christiansen was born on July 13, 1897, to Parley and Dorthea C. Christiansen. He grew up in Mayfield, a small town in southern Utah where his father was an early settler, farmer, and forest ranger. A descendant of early pioneers and colonizers, ElRay possessed a rich heritage, a strong work ethic, and a valiant testimony of the gospel. These attributes served him well throughout his life.
Christiansen received his undergraduate degree from the Utah State Agricultural College (now Utah State University) and also completed graduate work at Brigham Young University and the University of Utah. Following in his father's footsteps, ElRay worked for the United States Forest Service for a time. He found his specialty, however, in education; he was a teacher and principal at many schools, including a Church-sponsored school in Kelsey, Texas. A man with many interests, Christiansen was also a gifted cellist who played in many string ensembles, including the Utah Symphony Orchestra.
ElRay Christiansen was blessed with a wonderful wife, Lewella Ann Rees, whom he married in 1922. The two had many opportunities to serve the Lord as a couple. Shortly after their marriage, they were called as missionaries in the Central States Mission; years later, they served together again when ElRay presided over the Texas-Louisiana Mission from 1937 to 1941. Additionally, ElRay and Lewella served as the temple president and matron of two temples—the Logan Utah Temple (1943-51) and the Salt Lake Temple (1954-61). They performed their best service in their home, however, while raising their three children.
His family supported him throughout his years of church and civic service. Christiansen became the Church's temple coordinator and was an assistant to the Quorum of the Twelve Apostles from 1951 to 1975. He was also involved in the Rotary Club and the Boy Scouts of America organization.
ElRay L. Christiansen passed away on December 2, 1975. Considering the missionaries who served under him, everyone he ministered to in the temple, and all who heard his BYU devotional addresses and General Conference talks, suffice it to say many were influenced by his words, testimony, and example.
---
---