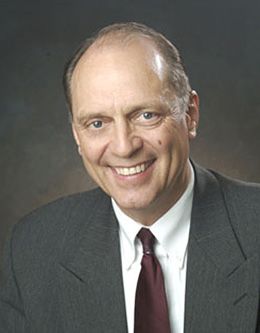 Eric B. Shumway
Eric B. Shumway grew up in St. John's, Arizona. His parents are James Carroll and Merle Kartchner Shumway.
Eric Shumway attended St. John's High School, where he served as stu­dent body president, lettered in four sports, played baritone horn in the band as well as cello in the orchestra, sang in the choir, and won all-state honors in basketball and football. He attended Brigham Young University on a basketball scholarship, served a mis­sion to Tonga, married Carolyn Merrill in June 1963, and graduated with a BA and MA in English literature and lan­guage from Brigham Young University.
Eric Shumway taught English at the Church College of Hawaii, trained U.S. Peace Corps volunteers in the Tongan language, and completed a PhD in English literature at the University of Virginia. He served as academic vice president at BYU—Hawaii, as acting president of the Polynesian Cultural Center, and became president of Brigham Young University—Hawaii in 1994.  He served as president until 2007.
President Shumway's Church and community service have included being bishop of the Hauula 2nd Ward, the first president of the BYU—Hawaii Stake, president of the Tonga Nuku'alofa Mission, and president of the Laie Community Association.
His professional contributions have concentrated largely in books, articles, and video documentaries on Tongan language and culture. He and Carolyn have seven children and 16 grandchildren.
---
---