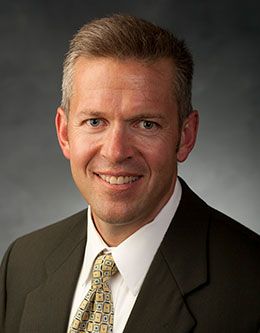 Eric D. Huntsman
A sixth-generation Latter-day Saint on virtually every family line, Eric D. Huntsman was born to a family of strong pioneer stock. Raised in New York, Tennessee, and Pennsylvania, Brother Huntsman was frequently a member of a religious minority in his communities. This allowed him to have wonderful, enriching experiences with people of different faiths and backgrounds, helping him not only appreciate the good in other religions and viewpoints, but also to better understand his own beliefs as he developed a personal testimony of the gospel taught within The Church of Jesus Christ of Latter-day Saints.
As a young man, Brother Huntsman served a mission to Thailand for the LDS Church. He then attended Brigham Young University where he studied classical Greek and Latin, and then the University of Pennsylvania for his master's and doctoral degrees in ancient history. Brother Huntsman specialized in Roman imperial history, specifically on imperial women such as Livia Drusilla, the emperor Augustus's wife. His mission and undergraduate studies were some of his first of many encounters with learning new languages; he now does translation work with classical Greek and Latin, is conversational in German, knows basic Hebrew, and is able to read French and Italian.
Though Brother Huntsman served as a student instructor during his time as an undergrad, he officially joined the BYU faculty in 1994 when he was hired on as a full-time faculty instructor. Then, after completing his PhD in 1997, he became an assistant professor in ancient history and classics. Brother Huntsman then transferred departments and became a member of the Department of Ancient Scripture. In 2008 he earned the rank of associate professor, and in 2012 he became the coordinator of BYU's Ancient Near Eastern Studies Program after having spent a year teaching at the BYU Jerusalem Center.
Brother Huntsman is a member of the Society of Biblical Literature and the Association of Ancient Historians. He is the host of the series "Mormon Identities" on the Mormon Channel, serves as an advisor for several on-campus clubs, is a member of the Church Scripture Committee's Audio Scripture Project, and has authored many books, book chapters, and articles. In the Church he has served as second counselor in the Philadelphia Third Ward and the Provo Park Ward bishoprics. He has also served as Bishop of the North Park First Ward in Provo, as an ordinance worker in the Provo Utah Temple, and as a member of the Mormon Tabernacle Choir. He has been married to his wife, Elaine Scott, since 1993. They are the parents of two children.
In an address at BYU, Brother Huntsman spoke of the process of facing trials and difficulties—something that everyone must go through. Using the personal example of the "greatest loss and heartache of [his] life, the autism diagnosis of [his] only son, Samuel," he testifies ardently that no matter the worries for the present and the future, "with love, testimony, and support in our heartache, we have much room for joy."
---
---