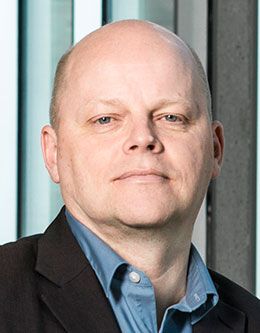 Eric Gillett
Eric Gillet graduated from Brigham Young University in 1991 with a bachelor's degree in graphic design. He also earned a master of fine arts degree from the University of Utah. Before graduating from BYU, he had already begun working with Adrian Parry Design. He worked with that firm until 1994, when he became the art director for Salt Lake Magazine and also started working with Toolbox Creative Services.
Having taught part-time at both BYU and the University of Utah, Eric Gillet became a full-time faculty member at BYU in 1998. He teaches graphic design and became the chair of the Design Department in 2015. He has also contributed to the university as the department Rank and Status chair and a Futures Committee co-chair. As a designer, art director, and creative director, he has commissioned work for several Fortune 500 companies and his work is featured in national and international design publications such as Communication Arts, Creative Quarterly, Graphis, NY Art Director's Club, and The One Show. In his research, he focuses on design systems, branding, and typography.
Eric Gillett's students have excelled under his leadership. In 2005 he and his BFA graphic design students competed against several design firms and were chosen to create the Utah Arts Festival identity and marketing materials for that year. Then in 2008 he worked with other faculty to oversee a group of students and their creation of the Typophile Film Festival for Opening Credits design package for an alumnus' companies. The package received several prestigious design awards including a Silver Cube from the Art Directors Club Awards, a Silver Pencil from the OneShow Awards, and the status as a finalist in the Motion Graphics category for the 2008 Adobe Design Achievements Awards. In 2014 he worked with fellow professors and initiated the Ultra Violet project, which involved the collaboration of many students and faculty from various departments on campus to create an exhibition of the artist Ultra Violet's work, including animations created with BYU studio. When he became the department chair for the Design Department in 2015, Eric Gillett received Merit Awards at the Graphis New Talent Annual for his work as a faculty advisor.
Design thinking, says Gillett, is compatible with gospel thinking. In his BYU devotional, he demonstrates how certain design principles help us to solve seemingly unsolvable problems in the world and in our lives. His testimony and professional expertise enhance one another, and his insights are enlightening and uplifting for others. Eric is married to Kimberly Sonntag Gillett, who graduated from the nursing program at BYU in 1989, and they have six children.
---
---