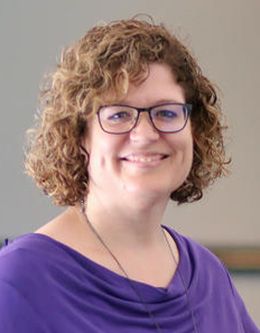 Erin D. Maughan
Erin D. Maughan is an assistant professor of nursing in the College of Nursing and a certified clinical nurse specialist in community health nursing. She also serves as the college's inter­national coordinator and on the Utah County Board of Health.
The second of nine children, Dr. Maughan was born and raised in New Hampshire. After graduating with a bachelor of nursing degree from BYU in 1994, she served a mission in San Juan, Puerto Rico. She earned a master's degree in community health nursing in 2000 and a PhD in nursing with an emphasis in school nursing and health policy in 2006, both from the University of Utah. Dr. Maughan's research focuses on school nurse staff­ing, public health nursing, health care systems, and the impact of interna­tional programs on student learning. She has won various awards for her research regarding school and public health nursing.
Dr. Maughan has worked as an RN at the Utah Valley Regional Medical Center, as a school nurse in the Jordan School District, and as a state school nurse consultant for the Utah Department of Health, where she also worked in the areas of adolescent health and smallpox/bioterrorism. She joined BYU's faculty in 2003.
In her free time Dr. Maughan enjoys traveling both internationally and in the United States (she has vis­ited all 50 states), learning about the world's cultures, reading, and cheering for the Boston Red Sox.
Dr. Maughan resides in Springville, Utah.
---
---