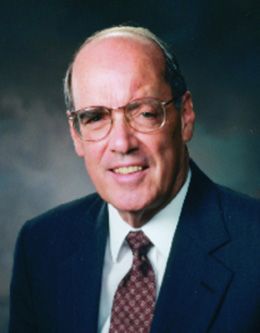 F. Burton Howard
F. Burton Howard was born in Logan, Utah. In 1943, when Howard was in sixth grade, he suffered an accident in which a truck wheel ran over his face, crushing the bone around his left eye. Later in life, Howard concluded that the scars were a "blessing" because they kept him from "making too much" of himself.
He served a mission for The Church of Jesus Christ of Latter-day Saints in Uruguay, becoming the second person to serve a mission from the Cody, Wyoming Branch. He married Caroline Heise in the Salt Lake Temple on December 14, 1956. They went on to have five children, including two adopted.  
Howard graduated with a law degree from the University of Utah in 1959. He went on to work for the Church Legal Department in 1962, being mentored by Elder Marion G. Romney for the next seventeen years. In 1978, Howard was called as a General Authority Seventy by President Spencer W. Kimball. As an emeritus Seventy, he served with his wife as temple president and matron of the Madrid Spain Temple from 2005 to 2008.  
---
---