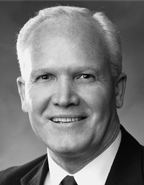 F. Melvin Hammond
Elder F. Melvin Hammond was named a member of the Second Quorum of the Seventy in April 1989. He was called to the First Quorum of the Seventy in 1993. He served as the 19th Young Men general president from 2001 to 2004, and was granted general authority emeritus status in 2005.
Prior to his call as a General Authority, Elder Hammond's Church service included bishop, stake presi­dent, Idaho Falls Temple worker, and mission president of the Bolivia Cochabamba Mission.
At the time of his calling as a General Authority he was a professor of religion at Ricks College (now BYU—Idaho) in Rexburg, Idaho. He has also served eight terms in the Idaho state legislature, where he was minority leader for three terms.
Elder Hammond is married to the late Bonnie Sellers.
Show More