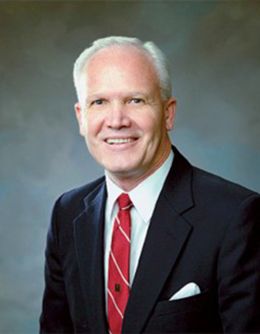 F. Melvin Hammond
Elder F. Melvin Hammond was born in Blackfoot, Idaho. His father passed away before his first birthday, so his mother went back to school at Ricks College to earn her teaching certificate to provide for the family. Elder Hammond's mother remarried when her son was five years old and their family relocated to a different part of Idaho. Eventually, they moved to Montana, where they lived for the remainder of Elder Hammond's childhood.
After graduating from high school, he received an athletic scholarship for Ricks College. However, during his freshman year, Elder Hammond was in a serious motorcycle accident that kept him from athletics for a time. After recovering, he thought about his priorities and realized that basketball was not as important to him as he had once believed. Changing his life plans completely, he decided to serve a full-time mission for the Church. He was called to the Spanish-American mission and served from 1954 to 1956. After returning from his mission, he married Bonnie Sellers. He returned to Ricks College and later, went on to attend Brigham Young University.
For several years after his graduation, Elder Hammond taught seminary in Utah and Colorado. He personally worked with many of his students to help them build their testimonies and become active in the Church again. Later on, he was hired to be a professor of religion at Ricks College. He was also elected to the Idaho State Legislature, serving there for sixteen years. In 1984, he was called to preside over the Bolivia Cochabamba Mission. After spending some time at home once this assignment was finished, he and his wife served as Sunday School teachers until Elder Hammond was called to serve in the Second Quorum of the Seventy. He was then called to the First Quorum of the Seventy, and then as the Young Men general president. In 2005, he was granted general authority emeritus status.
---
---