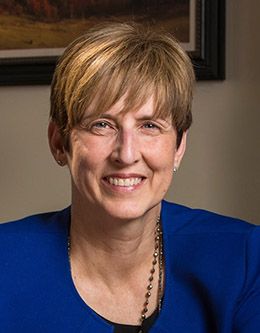 Gayla M. Sorenson
Gayla Sorenson grew up in rural Texas and came to Brigham Young University with big dreams. She wanted to go to law school in order to make a name for herself in a prestigious and competitive field, in which not many women were employed. Inspired by examples like Dallin H. Oaks and Rex E. Lee and recognizing the increasing need for articulate voices to defend moral positions, her motivations soon changed to reflect her greater desire to make a difference.
Sorenson graduated magna cum laude from BYU with a bachelor's degree in accounting. She then earned a JD from the J. Reuben Clark Law School, graduating cum laude in 1985. A member of the state bars of Arizona and Indiana, Sorenson worked for four years with Lewis and Roca in Phoenix, Arizona, and then for twenty years with Motorola, where she became the vice president and senior legal advisor. She then worked in-house with Biomet, Inc. in Indiana.
Thanks to the help of some mutual friends, Gayla met Ferril Sorenson, a wonderful and faithful widower, and the two fell in love and were married when she was 46. It was difficult to adjust, especially because the two worked on opposite ends of the country. Gayla says that though there is nothing convenient about their marriage, being together simply makes life better. She has also developed a great love for her stepchildren, who have enriched her life.
Through all her professional endeavors, Sorenson has been involved with the J. Reuben Clark Law Society, including serving as the Chair of the Finance Committee. She has also volunteered for the International Center for Law and Religion Studies. When she was invited to return to BYU to serve as the dean of admissions for the Law School, she was very excited—excited to be near the mountains, BYU football, and her nieces and nephews. However, she was even more excited to help other students receive the kind of legal education she had been blessed with. Sorenson often expresses her deeply felt debt of gratitude toward God and those who have supported her in receiving her education; now she seeks to pay that forward through her work.
In her BYU devotional, Gayla Sorenson helps us understand that each of us has opportunities to advocate for others, whether or not we are in a law career. She sees among her "clients" not only those she represents as an attorney, but also family members and those she serves in various Church callings. She testifies from experience that as we strive to understand and love others, we can learn to advocate for people and causes the way Christ advocates for us.
---
---