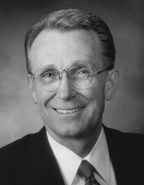 Gerald R. Williams
Gerald R. Williams served as a profes­sor of law at the J. Reuben Clark Law School, where he specialized in negotiation and conflict resolution. He was also a visiting professor at Harvard Law School (1986), the University of Cairo Faculty of Law (1978–80), and Kabul University Faculty of Law (1970–72).
In recent years his research and teaching have focused on understanding how conflicts arise, the process by which we can appropri­ately resolve our conflicts, and the essential role of lawyers as healers.
Professor Williams served on the editorial boards of the Dispute Resolution Journal (published by the American Arbitration Association) and Alternatives to the High Cost of Litigation (pub­lished by CPR Institute for Dispute Resolution). He has served as president of the Provo City School Board and as president of the board of directors of Utah Legal Services.
From 1998 to 2001 he was president of the France Bordeaux Mission. He holds a BA from Brigham Young University and a JD from the University of Utah.
---
---