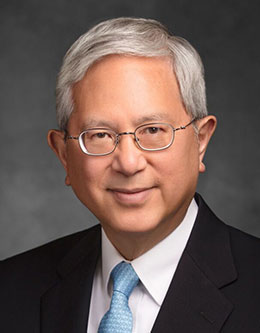 Gerrit W. Gong
of the Quorum of the Twelve Apostles
"When we embark on life's journey, we do not know where it will take us. Nor may we know exactly where we will want to go. But if we will not be afraid, only believe, we can be happy at home, sealed in our generations, grateful to the Lord for a lifetime of tender mercies."
This faith and trust in the Lord, as Elder Gerrit W. Gong expressed in a BYU–Hawaii devotional in 2013, is the pattern after which he has established his life. As a member of the Quorum of the Seventy, Presidency of the Seventy, and Quorum of the Twelve Apostles of The Church of Jesus Christ of Latter-day Saints, Elder Gong is a living example that no matter where the Lord calls—be that California, Taiwan, England, China, or Utah—happiness will follow.
Born to Walter Gong, a professor of natural sciences, and Jean Char, a schoolteacher, Gerrit W. Gong began his life in Redwood City, California on December 23, 1953. Elder Gong's name carries with it a unique three-fold cultural representation: his first name, which is Dutch, comes from Gerrit de Jong Jr., the first dean of the College of Fine Arts at BYU, with whom his mother lived as a young BYU student. His American middle name, Walter, comes from his father, and his Chinese last name, Gong, dates back 33 generations to the late Tang dynasty in AD 837.
Learning and perseverance have played important roles in Elder Gong's life since childhood. He recalls a time when he was younger and had a desire to play school basketball. Knowing that he would likely never play in a game, the coach encouraged him to try out for soccer instead. Rather than be offended, Elder Gong went on to join the soccer team. He recalls that his family "cheered when [he] scored his first goal." This spirit of humility and perseverance would go on to bless him as he served as a missionary for The Church of Jesus Christ of Latter-day Saints in the Taiwan Mission and later in his academic career.
After returning home from his mission, Elder Gong attended Brigham Young University, where he received a bachelor of arts degree in Asian and university studies. He went on to study at Oxford University, where he received both a master's degree and PhD in international relations as a Rhodes scholar.
While attending BYU, Elder Gong volunteered to give Sunday evening firesides on Taiwan's culture to new missionaries leaving from the MTC. It was there that he met Susan Lindsay, the woman who would later become his wife. The two began dating a few years later when Susan returned home from her mission. Elder Gong recalls their first date, saying that it included climbing trees, and that every day for the next 30 days they continued to spend time together doing "simple, fun things like flying kites, playing racquetball, having a picnic." When Elder Gong returned to England, the two remained in communication until deciding to marry shortly thereafter. He has lovingly joked that the success of their long-distance relationship is true proof that he received a PhD in international relations. They are the parents of four sons.
Elder Gong worked at the US Department of State and served on the Secretary of Education's National Advisory Committee for Institutional Quality and Integrity. He served in several positions at the Center for Strategic and International Studies. He was personal advisor to the Chief Justice of the US Supreme Court during his official China visit, executive officer for President George H. Bush's visit to China, and assistant to two US ambassadors at the US embassy in Beijing, People's Republic of China. Elder Gong has researched and taught at Oxford, Johns Hopkins, Georgetown, and Brigham Young University. Until 2010, he was assistant to the president for planning and assessment at Brigham Young University.
Prior to the call to become a general authority seventy, Elder Gong served in the Church in many capacities including bishop, stake president, and seminary teacher. In 2010, Elder Gong was called to be a member of the Quorum of the Seventy. He later served as a counselor and the area president in the Asia Area Presidency, headquartered in Hong Kong. On March 31, 2018, Elder Gong was officially called and sustained as a member of the Quorum of the Twelve Apostles.
---
---