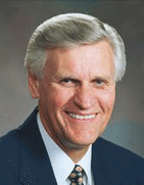 Glenn L. Pace
Elder Glenn L. Pace is a member of the First Quorum of the Seventy of The Church of Jesus Christ of Latter-day Saints. He was first called as a General Authority in April 1985 to serve as second counselor in the Presiding Bishopric, a position he held until his call to the Seventy in October 1992. He has served as the president of the North America Northwest Area, as president of the Africa West Area, and as president of the North America Northeast Area. He is currently serving as Chairman of the Church Audit Committee.
Elder Pace worked in the Welfare Services Department of the Church for nine years, which included four years as managing director of that department.
A certified public accountant, he graduated from Brigham Young University with a master of accoun­tancy degree and worked for an international accounting firm.
Elder Pace is a native of Provo, Utah. He served the Church as a full-time missionary in the New England States and as mission president of the Australia Sydney North Mission.
Elder Pace is married to Jolene Clayson of Provo, and they have six children and 29 grandchildren.
Show More