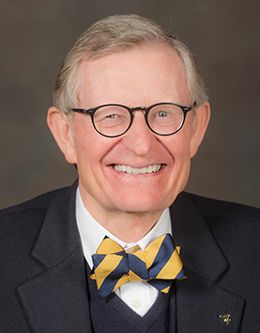 E. Gordon Gee
Dr. Elwood Gordon Gee is the current president of West Virginia University. He is past president of Brown University, Ohio State University, the University of Colorado at Boulder, and West Virginia University.
Dr. Gee graduated from the University of Utah in 1968 with a BA in history. He earned a JD in law and EdD in education from Columbia, special­izing in education law. He completed a federal judicial clerkship, after which he served as an assistant dean for the University of Utah College of Law. After serving as a Judicial Fellow and Senior Staff Assistant for United States Supreme Court Chief Justice Warren Burger, he served as associate dean and professor in the J. Reuben Clark Law School at BYU, and as a dean at West Virginia University before becoming its president.
Chancellor Gee is a member of the steering committee for the new National Center for Public Policy and Higher Education. He is also a member of the President's Council for Imagining America: Artists and Scholars in Public Life, the Christopher Isherwood Foundation Board, and the Business-Higher Education Forum.
Dr. Gee is a nationally renowned author and expert in the subjects of education and law.
His wife, Constance, is an associate professor of public policy and educa­tion at Peabody College, Vanderbilt University.
---
---