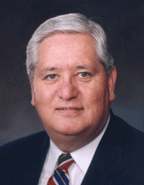 H. David Burton
Bishop H. David Burton served as Presiding Bishop of The Church of Jesus Christ of Latter-day Saints, from 1995 to 2012. Prior to that, he had served for three years as first counselor in the Presiding Bishopric. For fourteen years he served as executive secre­tary to the Bishopric, after a year as assistant Church budget officer. Prior to that he was employed with Kennecott Copper Corporation and the Utah State Tax Commission.
He earned a degree in econom­ics from the University of Utah. He pursued postgraduate work at the University of Utah and at the University of Michigan, where he earned a master of business administration degree.
Bishop Burton has served the Church as a missionary in Australia, as a bishop, a bishop's counselor, a stake high councilor, a stake president, and as a temple sealer.
Show More