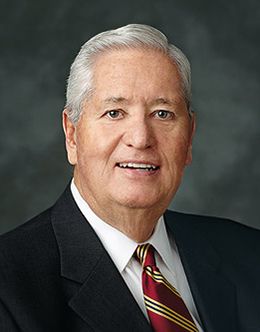 H. David Burton
Bishop H. David Burton served as the presiding bishop of the Church of Jesus Christ of Latter-day Saints from 1995 to 2012. He has served in the church faithfully for years. However, he should also be equally recognized for his prestigious humanitarian work and his fundamental contributions to Utah. Elder Burton is a Salt Lake City native and was called to be the presiding bishop of the Church in 1995. He was sustained during the April 1996 General Conference. Prior to this call, Elder Burton served in numerous leadership positions throughout the Church, including first counselor in the Presiding Bishopric, secretary to the Presiding Bishopric, and assistant Church budget officer.
As a young man, Bishop Burton served as a missionary in Australia. He graduated from the University of Utah with a bachelor's degree in economics. Later, he went on to earn a master of business administration at the University of Michigan. He used the skills he gained from his education to pursue a career at the Utah State Tax Commission. In 2011, he was awarded the "Giant in Our City" award from the Salt Lake Chamber . This award was a way to thank Bishop Burton for the service he has given in establishing Salt Lake, including the City Creek development.
Bishop Burton has also been awarded for his incredible humanitarian contributions. In 2008, the Utah Youth Village presented him with the prestigious Helping Hand Award. Bishop Burton's life of service reflects the values he embodies. Bishop Burton strives to exemplify righteousness and leadership. In addition to his leadership positions in the Church, he and his wife, Barbara, are the parents of five children. During his time as the presiding bishop, he oversaw the construction of over 100 temples. Bishop Burton has also served as a temple sealer. When he addressed the BYU student body, he discussed his testimony of Jesus Christ and gave advice for how young adults and others can apply the Savior's teachings.
---
---