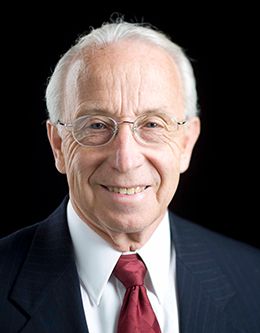 H. Reese Hansen
Dr. H. Reese Hansen earned a bachelor of science degree in business administration in 1964 from Utah State University and a juris doctorate in 1972 from the University of Utah College of Law, where he was research edi­tor and note editor of the Utah Law Review and was named to the Order of the Coif. After graduation, he practiced law in Salt Lake City with Strong, Poelman, and Fox until 1974, when he was appointed to the faculty of the J. Reuben Clark Law School.
He has served as an ex-officio commis­sioner of the Utah State Bar and is a mem­ber of its Admission Rules Committee. Dr. Hansen has authored a casebook, a judicial reference book, and law practice manuals and articles in legal publications. He was founding chair of the Section for the Law School Deans for the Association of American Law Schools (AALS). In addition, he served as a member of the AALS Accreditation Committee and as director of the Association of Religiously Affiliated Law Schools.
On May 1, 1996, Dean Hansen received the first Award for Illustrious Civility in the Law, given by the Board of Bar Commissioners of the Utah State Bar. He became assistant dean of the Clark Law School in 1976, associate dean in 1989, and was named dean in 1989. Under his direction, the Howard W. Hunter Law Library was com­pletely renovated and modernized, which doubled the library's size.  He served as dean until 2004.
The week of his appointment as Law School dean, Dr. Hansen was called to be president of the Provo Utah Sharon East Stake Prior to that calling, he served as Scoutmaster, Varsity Scout leader, elders quorum president, counselor in two stake presidencies, and bishop.
---
---