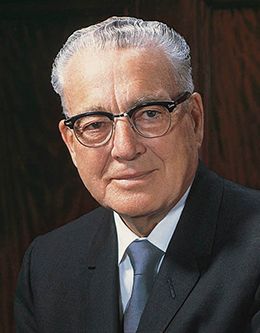 Harold B. Lee
Harold Bingham Lee was born in the rural town of Clifton, Idaho, on March 28, 1899. He was the youngest of six children, part of a family who worked hard on their farm and depended heavily on one another. At least twice in his youth, he encountered life-threatening accidents and was saved by the ingenuity of his mother. Once, while bringing a can of lye down from the shelf, he spilled the dangerous chemical on himself; his mother saved him by counteracting the effects of the lye with pickled beet juice. Another time she burned a sock and used the ashes to cleanse an infected wound. He often spoke of the admiration he held for his hard-working and stalwart parents, especially his mother.
Despite his humble background, education was important to young Harold and his parents. He was educated at Oneida Stake Academy in Preston, Idaho, where he applied himself, especially to the study of music. He played the alto, French, and baritone horns. He was also involved in other extracurricular activities such as playing basketball, competing in debate tournaments, and reporting for the school newspaper.
After Oneida, Harold B. Lee earned a teaching certificate from the Albion State Normal School. The certificate required a fifteen-subject test and placed him in his first job—teaching a class of twenty-five students from first grade to eighth grade. He excelled, and at age eighteen he became the principal of a school.
Harold B. Lee took time from his budding career to serve a mission to the Western States. There he met a sister missionary named Fern Lucinda Tanner. When they finished their missions, they began courting and were married in the Salt Lake Temple in 1923. They had two daughters, Maurine and Helen.
When he was thirty-three years old, Harold B. Lee was appointed to fill the vacancy in the Salt Lake City Commission, where he was assigned to the Department of Streets and Public Improvements. He was later elected to that same position, and many Utah citizens encouraged him to run for higher offices such as governor or senator. He declined and instead spent most of his time in Church service.
Harold B. Lee presided over Salt Lake's Pioneer Stake as the youngest stake president to that point. When the Great Depression hit, he found that half of his stake had become unemployed. In response to their needs, he established a welfare system, making use of the bishop's storehouse. That welfare program was eventually adapted for use throughout the entire Church, and Harold B. Lee became its managing director.
In 1941 Harold B. Lee was called to the Quorum of the Twelve. Twenty years into his service, his wife Fern passed away. The following year, he married Freda Joan Jensen, whose companionship blessed him until his own death. In 1972 he became the eleventh president of The Church of Jesus Christ of Latter-day Saints. He served in that capacity for just over a year before passing away in December 1973 at the age of seventy-four. In his time as a general authority, President Lee traveled thousands of miles to visit missionaries and members in Asia, South America, and other areas of the world.
During a period of time spanning over a quarter of a century, President Harold B. Lee visited and spoke at Brigham Young University many times. He spoke boldly of the responsibilities and blessings that come from being covenant children of God. His testimony and admonition to "be loyal to the royal within you" continue to inspire members of the Church worldwide.
---
---