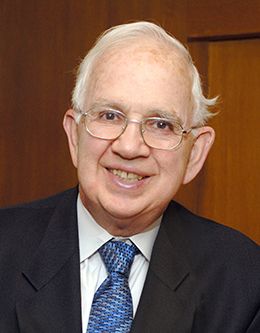 Harold S. Kushner
Just hours after Rabbi Harold S. Kushner and his wife, Suzette, celebrated the birth of their second child—a beautiful baby girl—they found themselves in a pediatrician's office receiving the earth-shattering news that their oldest child, three-year-old Aaron, had a rare disease called progeria, a fatal, rapid aging that burdens one in every seven or eight million children. As they learned that their son would not live past his teenage years, the Kushners' world was rocked. By the time Aaron was 10 years old, he was physiologically in his 60s. At the age of 14, when he passed away, Aaron weighed only 25 pounds and was the height of the average three-year-old.
This life-changing experience lead Rabbi Kushner to rethink his view of God's compassion, omnipotence, and plan. As he reconsidered everything that he had learned about God throughout his extensive education at Columbia University and the Jewish Theological Seminary where he received his rabbinical ordination and doctoral degree in Biblical studies, he felt confusion as to why his family had to endure such a trial.
Though he does not believe that it was God's plan for his son to die for the express purpose that he would be motivated to write a book, Rabbi Kushner used his grief as inspiration to write his bestselling novel, When Bad Things Happen to Good People. This book has been translated into 14 different languages and has been chosen for numerous awards, including a selection as the Book of the Month Club's top ten most influential books. Rabbi Kushner's focus within this book was not to explain why bad things happen to God's children, but rather to comfort those going through hard times. This is what he believes people experiencing times of difficulty need—consolation, not explanation. He has since written several other books, including When All You've Ever Wanted Isn't Enough, which received a Christopher Medal for its contribution to the exaltation of the human spirit.
Given the unfairness of life, Rabbi Kushner has said that he would rather believe in a God of limited power and unlimited love and justice than the other way around. This is the philosophy under which he delivered sermons for almost thirty years as a rabbi at Temple Israel in Boston, Massachusetts. After stepping down from the pulpit, he became rabbi laureate and devoted his time to writing. Rabbi Kushner's ability to bring the scriptures to life has enabled him to teach others how they can use religion as a means to help with life's problems. A lifetime of devotion to God and service to others has enabled Rabbi Kushner to teach how the Bible can guide anyone to live a purposeful life aligned with God.
---
---