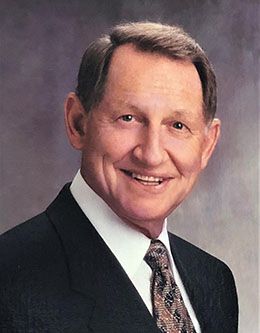 Hartman Rector Jr.
Hartman Rector Jr. was born August 20, 1934, and raised in the small town of Moberly, Missouri. Having been taught by the examples of his parents, Hartman was a good boy who sought to do the right thing. He was especially impressed by the honesty and integrity of his father, who Hartman believed would have walked ten miles to return ten cents he had borrowed.
The Rector family was not particularly religious, at least outwardly; church attendance was relegated to a few weeks during the summer and the occasional sermon over the radio. At times, Hartman would attend revivals with his grandmother in which preachers would encourage their audience to accept Christ publicly. Young Hartman expressed a desire to confess Christ, but he was discouraged from making a decision until he was an adult.
One memorable religious experience he recalled from his childhood was asking his grandmother why God would love him, especially when he wasn't always good. His grandma taught him, "God doesn't love you because you are good. He loves you because He is good." This understanding of God's consistent love helped Hartman strive to do the right thing and continue to seek Him.
When he was eighteen years old, Hartman met a fourteen-year-old dark-haired girl named Constance who he immediately knew would be the girl for him. He told her that he was leaving to join the U.S. Navy for four years and that when he returned and she had grown up, he would marry her. True to his promise, the two were married in 1947, the year he returned home from the Navy. Hartman and Constance have nine children.
During his time in the Navy, Hartman began attending church services regularly for the first time. He found that he had many questions, and he studied books and had conversations with ministers that were very influential for him. Three years after he married Constance, the war in Korea prompted his return as a naval aviator. The family moved to San Diego, and while Hartman was away for special training in Hawaii, Constance opened the door to a pair of Mormon missionaries. She began studying with them and started to develop a testimony of what they taught.
When Hartman returned, he initially treated his wife's newfound religious interest with skepticism. However, as soon as he began sincerely reading the Book of Mormon, he found answers to long-held questions. He continued studying the Church on a ship headed for Japan, and upon his arrival he was anxious to be baptized. He was baptized in a garden behind the mission home in Japan in February of 1952; Constance was baptized four days later in San Diego.
Hartman Rector Jr. spent 26 years as a naval pilot. He also studied at Murray State Teachers College and the University of Southern California. In 1968, he was called as a General Authority Seventy. Perhaps due to his experience as an adult convert, he found particular joy in missionary work. He served as the interim president of the Italian Mission, the first president of the Alabama-Florida Mission, and the president of the San Diego California Mission. He also wrote several books on gospel topics to share his experience and testimony with others.
Elder Rector was granted emeritus status in 1994. During his time of service as a General Authority, he spoke twelve times at BYU, sharing his experiences with the gospel and encouraging students to prepare to make a difference in the lives of others through their study, their service, and their examples as followers of Jesus Christ.
---
---