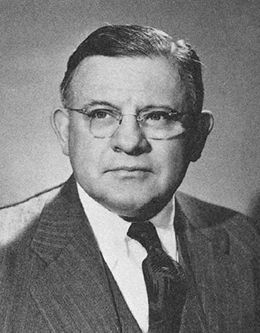 Henry D. Moyle
Henry D. Moyle was a talented and successful businessman, attorney, and soldier, but perhaps his most prominent role was that of a dedicated apostle of the Lord. His sharp mind and kind heart helped him in his secular pursuits and his service to others within his vast sphere of influence.
Born April 22, 1889, to James H. and Alice E. Dinwoodey Moyle, Henry Dinwoodey Moyle grew up in Salt Lake City, Utah. As a young man, he served a three-year mission in Switzerland and Germany. After finishing his missionary service, he received a bachelor's degree in mining engineering from the University of Utah in 1909. Moyle then returned to Frieberg, Germany, to study geology at the world-famous School of Mines located there. Upon his return to the United States, he earned yet another science degree at the University of Utah before deciding that he would rather study law, which led to his studying at Harvard Law School and graduation from the University of Chicago with a law degree.
When the United States of America entered into World War I in 1917, Moyle served in the United States Army, where he advanced to the rank of captain of an infantry division. Once the war was over, Moyle married Clara Alberta Wright in the Salt Lake Temple in 1919; the two eventually became parents to six children. Moyle then began what would become a very rewarding career, working in a law firm and teaching equity law at the University of Utah for twenty-five years. Moyle was also involved in a number of business ventures in a variety of fields, including railroad, ranching and livestock, trucking, banking, oil, insurance, and finance. His experience within the fuel and oil industry led him to a position as the director of the Petroleum Industries Council during World War II, which benefitted both the country and the Church: Moyle was able to petition the government to obtain the paper ration necessary for the Church to print the Improvement Era magazine for servicemen and servicewomen stationed overseas.
Throughout his life, Moyle had many other opportunities to serve the Lord. He was the stake president of the Cottonwood Stake in Salt Lake City from 1927 to 1937 and was ordained an apostle in 1947 by President George Albert Smith. Elder Moyle was then appointed chair of the General Church Welfare Committee. His expertise in business, finance, ranching, and science contributed substantially to the successful launch of the welfare program. Elder Moyle's greatest contribution to the welfare system occurred in the 1950s, when he oversaw the Church's purchase of a cattle ranch in Florida. In 1959 Elder Moyle was called as the second counselor in the First Presidency and was appointed as chair of the Missionary Committee, where he helped increase the number of full-time missionaries.
President Moyle served in the First Presidency until his death on September 18, 1963, and his life was spent practicing what he preached: "We may sometimes find satisfaction in sharing our material wealth with others. But far greater satisfaction comes from sharing ourselves, our time, our energy, our affection, and particularly in imparting to others our testimony of God, the power of God unto salvation, the knowledge we possess of God and His purposes."
President Moyle delivered five devotional addresses at Brigham Young University. His pragmatic life advice and spiritual application of the gospel has touched readers and listeners for decades.
---
---