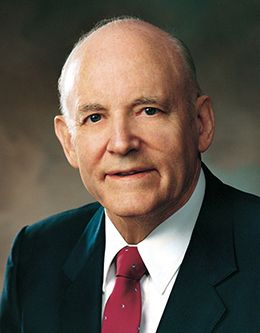 Howard W. Hunter
Howard W. Hunter's resilience in the face of trials, along with his stalwart faith in the gospel, his diligent work ethic, and his compassion and love for others, not only characterized his life, but prepared him for the service the Lord had in store for him.
Howard W. Hunter was born on November 14, 1907, in Boise, Idaho. His mother was a member of The Church of Jesus Christ of Latter-day Saints. Although not a member, his father was always supportive of Howard's mother taking the children to church. Howard was allowed to be baptized when he was 12, and his father eventually decided to be baptized when Howard was a young adult. Howard W. Hunter always felt a love of and devotion to the Church; when his small ward, which was then meeting in a Jewish synagogue, was told about the plan to build a tabernacle in Boise, 16-year-old Howard's twenty-five dollars was the first pledge toward its construction.
As a child, he had a kind and gentle personality. His younger siblings remember that he cared for them well and that his compassion sometimes even led him to bring home stray animals to nurse back to health. He grew into a hard-working teenager who handled many jobs, but he still left time for music and fun. He loved music in his youth, playing the piano, violin, drums, saxophone, clarinet, and trumpet. He put together a band, called Hunter's Croonaders, which toured for five months on the cruise ship SS President Jackson, giving him the opportunity to visit a few Asian countries, including Japan, China, and the Philippines. When he returned, he tried out a few different jobs and then moved to Southern California in 1928.
Clara May Jeffs had moved to Los Angeles with her family in 1926. She and Howard met soon after he arrived and, after dating for a few years, they were married in the Salt Lake Temple in 1931. Howard kept working different jobs until he began studying law at Southwestern Law School, where he graduated cum laude in 1939 and started a successful career as a lawyer.
The Hunters lost their first baby, William, soon after birth. They had two other sons, Richard and John, who both followed in their father's footsteps and became lawyers. The family served faithfully in the Church as Howard was called to be a bishop, a stake president in the newly organized Pasadena California Stake, and then, in 1959, when he was called to join the Quorum of the Twelve Apostles. In this capacity, he was able to help negotiate plans for the BYU Jerusalem Center, which he later dedicated.
In 1983, Howard W. Hunter's wife Clara passed away, and seven years later he married Inis Stanton, who was a strengthening support and companion to him in his final years.
After serving in the Quorum for 35 years, Howard W. Hunter succeeded Ezra Taft Benson as the 14th President of the Church. He served for nine months before passing away from cancer on March 3, 1995. Debilitating health problems had plagued him throughout his presidency, but during his short time there he accomplished much. He dedicated temples in Bountiful, Utah and Orlando, Florida; commemorated the 150th anniversary of the martyrdom of Hyrum and Joseph Smith; and often traveled and visited members. He also strongly encouraged members to become temple worthy and reached out to less active members, inviting them to return to the Church.
Howard W. Hunter spoke several times at Brigham Young University. Once, in an unforgettable moment, he was confronted at the pulpit by a man who claimed to have a bomb. The man threatened to use it if President Hunter would not read a document saying that God wanted this man to have leadership of the Church. President Hunter's courage and calmness reassured others in a frightening situation, which was thankfully relieved when the man was apprehended. President Hunter then went on to deliver his address. His commencement and devotional addresses at BYU give insight into his powerful testimony of Jesus Christ and his determination to develop Christlike qualities. He likewise inspires us to acquire such strong testimonies and determination.
---
---