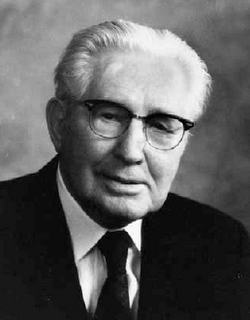 Hugh B. Brown
Elder Hugh B. Brown's messages typify his passionate speaking style and fervent testimony of the gospel of Jesus Christ. In them he shares insights gleaned from years of varied and trying personal experiences fitted alongside a lifetime of gospel study and living.
Early Life
Hugh B. Brown was born on October 24, 1883, in the Granger, Utah, territory. His family owned a small farm and orchard there, but when Hugh was fourteen, his father traveled with Hugh's oldest brother to establish a farm in Western Canada. After two years, the rest of the family followed. In the meantime, Hugh and his older sister helped run the farm in Granger. When they moved to Canada, they found themselves in rugged territory and squeezed into a small log cabin to weather a rough winter.
Education & Missionary Service
When Hugh turned eighteen, he traveled to Logan, Utah, to study agriculture at Brigham Young College and at Utah State Agricultural College, where Dr. John A. Widtsoe recommended a career in agriculture. His study was interrupted by the call to serve a mission in England.
One of the most miraculous experiences during Elder Brown's mission occurred after a difficult and discouraging day of tracting. He was contacted by sixteen families who had recently left the Church of England and were looking for truth. They had received a tract left behind by Elder Brown, had asked him to be their minister, and had set up a meeting. After Elder Brown spent a day in nervous fasting and prayer, the Lord took over the meeting for him, he recalled. Within three months everyone in attendance was baptized. It was a foundational experience for Elder Brown's deep relationship with the Lord and his commitment to sharing his testimony of the gospel with others.
Family
When he returned from serving his mission, Elder Brown married Zina Young Card, a childhood friend. The couple moved back to Alberta, Canada, and there began their family, which would eventually include eight children. Their children, grandchildren, and great-grandchildren recalled the touching closeness of Elder Brown and Zina's relationship, especially in their final years of life.
Career & Church Service
In 1908 Elder Brown was asked by leaders of the Church in Canada to undergo military officer training to organize a Mormon contingent for the Canadian reserves. He was a strong leader, attaining the rank of major and qualifying for promotion, which was denied because of religious discrimination. His contingent was sent to fight in World War I in 1916, a journey by ship that would have ended in mutiny and violence had it not been for Elder Brown's calm and inspiring leadership and counsel.
Deciding against a career in the military, Elder Brown returned home to continue working humbly as a farmer, cowboy, and businessman. His thirst for education, however, led him to resume the study of law (which he had begun before the war at the Law Society of Alberta), this time as an apprentice under a Cardston barrister. He studied diligently for the bar exam while working as an apprentice and keeping up a farm to supplement his small income. He was admitted to the bar in 1921.
Elder Brown was never too busy with work and education to serve in the Church. He was called to preside over the Lethbridge Stake, whose boundaries included not only all of Alberta north of Lethbridge but also all the Northwest Territories.
The Brown family later moved to Salt Lake City, where Elder Brown worked as a lawyer and partner in a firm with J. Reuben Clark Jr., Albert E. Bowen, and Preston D. Richards. He ran for political office with the Utah Democratic Party. He also served as president of the Salt Lake Granite Stake. In 1937, Elder Brown was called to preside over the British Mission, which he did until 1940 and then again from 1944 to 1946.
From 1941 to 1945, during World War II, he served as a coordinator for LDS military servicemen. His responsibilities led him to travel throughout the United States, Canada, and Europe. His son Hugh, who had been serving as a missionary in England when the war broke out, enlisted in the British military because of his love for the people of England. He was killed in 1942, which was a great tragedy to the Brown family.
Elder Brown suffered from a debilitating and extremely painful nerve disease called trigeminal neuralgia, also known as tic douloureux, that affected a nerve on one side of his head. After an unsuccessful surgery and recurring bouts of the disease, he underwent an operation at the Mayo Clinic in New York to remove a section of the nerve, leaving his face partially paralyzed and numb.
Elder Brown taught at BYU for three years, from 1946 to 1950, and served as the coordinator of veteran affairs. From 1949 to 1953 he supervised the drilling of an oil well in the Canadian Rockies. There, though he was successful, he felt like he was missing a sense of purpose. His prayers for guidance were answered in an unexpected way when he was called to serve as the assistant to the Quorum of the Twelve. Five years later, in 1958, he was called into the Quorum. He later served in the First Presidency under President David O. McKay.
Elder Hugh B. Brown passed away on December 2, 1975.
---
---