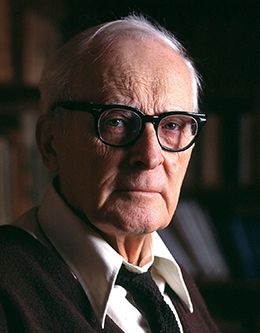 Hugh Nibley
Early Life
Hugh Winder Nibley was born on March 27, 1910, in Portland, Oregon, as the third of four boys born to Alexander and Agnes Sloan Nibley. A descendant of Presiding Bishop Charles W. Nibley on his father's side and Alexander Neibaur, the first Jewish convert to The Church of Jesus Christ of Latter-day Saints, on his mother's side, Nibley grew up with a strong gospel presence in his life from a young age. He was also very gifted academically. 
Young Hugh became passionate about astronomy, art, and English. As a young boy, he cut his eyelashes off to better see through telescopes and specialized in pencil sketches of tall ships. Nibley's teachers encouraged him to memorize "notable passages of literature" and by age twelve he had memorized major Shakespearian tragedies and works by prominent poets. His love of the English language inspired him to study Anglo-Saxon, Latin, and Greek. Later in his life, he became known as a true polyglot, able to read Arabic, Coptic, Dutch, Egyptian, French, German, Greek, Hebrew, Italian, Latin, Old Norse, and Russian, while also teaching many of those languages on a university level. 
Missionary Service
At age seventeen Nibley was called to serve as a missionary in the Swiss-German Mission for two and a half years. Although a dedicated missionary, Nibley missed his secular studies. To fill the need to study, he began poring over the Book of Mormon. He wrote in his journal, "The Book of Mormon is giving me greater joy than anything ever did." 
Education, Career, & Family
Upon returning home from his mission, Nibley studied at the University of California, Los Angeles, graduating summa cum laude in 1934. He then began graduate studies at the University of California, Berkeley. He felt the effects of the Great Depression financially, but was blessed with a translation job that allowed him to continue school. However, this time of his life took a toll on him emotionally and spiritually, and he wrestled with his doubts about the gospel and the Church. It was during this period that he contracted appendicitis and, when the doctors turned the ether on, he swallowed his tongue and stopped breathing. Nibley had a profound "life-after-life" experience while unconscious that affected him deeply, changing his entire outlook on life. The experience helped him realize that while classroom learning was important, our mortal experience should foster a spiritual education. 
Nibley earned his PhD from Berkeley in 1938 and then taught at Claremont, Scrips, and Pomona Colleges. When World War II broke out, Nibley joined the army and worked in military intelligence for the 101st Airborne Division of the famed "Screaming Eagles." He participated in the Utah Beach division of D-Day, Operation Market Garden, and the Battle of the Bulge, yet was never wounded or captured. 
Following the war, Nibley became a professor at Brigham Young University at the request of Apostle John A. Widtsoe. He taught history, languages, and religion there from 1946 until his retirement in 1975, but kept teaching as an emeritus professor until 1994. When Nibley began teaching at BYU, Elder Widtsoe was concerned about Nibley's marital status: he was a thirty-six-year-old bachelor. Elder Widtsoe encouraged Nibley to marry, and Nibley decided to marry the first girl that he saw at BYU. Phyllis Draper, the receptionist at the housing office, was that girl, and they were married on September 18, 1946, roughly three-and-a-half months after they first met. Of his courtship, Nibley quips, "That's why it's called B-Y-Woo, I guess." The couple had eight children. 
Scholarship & Late Life
Professor Nibley became a well-known writer and apologist, defending gospel doctrines and striking against anti-Mormon critics and literature. Although not officially sanctioned by The Church of Jesus Christ of Latter-day Saints, his scholarship was widely respected throughout the Latter-day Saint community; he often wrote about the scripture and doctrine of the restored Church of Jesus Christ, supporting the teachings of Joseph Smith with archaeological, linguistic, and historical evidence. Nibley also aimed to place the Book of Mormon within a biblical, Middle-Eastern context. Many of his articles were published in Church magazines and in top peer-reviewed journals. At the Harold B. Lee Library at BYU, Nibley had his own office where he worked on his magnum opus, One Eternal Round, which focuses on the hypocephalus "Facsimile 2" from the Book of Abraham. 
After being bedridden for two years due to illness, Nibley passed away on February 24, 2005. However, the prolific author and professor's legacy lives on through his students and his extensive scholarship, including seventeen audio recordings of his lectures and addresses on the BYU Speeches website. 
---
---