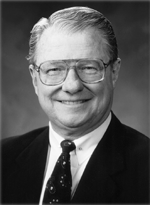 Hugh W. Pinnock
Elder Hugh W. Pinnock was named a member of the First Quorum of the Seventy on October 1, 1977.
He served in the presidency of the North America Central Area and on the Boundary and Leadership Change Committee.  He was granted emeritus status in 1989 after serving in the Presidency of the Seventy for 3 years.
He served as student body president of both his high school and the University of Utah, where he earned his bachelor's degree in industrial management. He has been awarded honorary doctorates from Westminster College and Salt Lake Community College. He has served as a member of the Granite School District Board of Education.
Through the years Elder Pinnock has served the Church in numerous capacities, beginning as a full-time missionary in the Western States Mission (1954–56). He has been a high councilor, bishop, mission president, and regional representative and has served on Church general com­mittees including the Priesthood Leadership Committee and as coordina­tor of the Hymnbook Committee. He has been general president of the Sunday School and has twice served as a member of the Presidency of the Seventy.
Elder Pinnock has been a member of numerous business and community ser­vice boards, such as First Interstate Bank, State of Utah Antifraud Commit­tee, Utah State Board of Economic Development, Committee of 100, and the Salt Lake Area Chamber of Commerce. He has been president of Life Underwrit­ers Association, the Utah State Life Man­agers Association, and the Utah State CLU Chapter, receiving the Life Insur­ance Industries Life Achievement Award.
Elder Pinnock and his wife, Anne Hawkins, are the parents of six children.
Show More