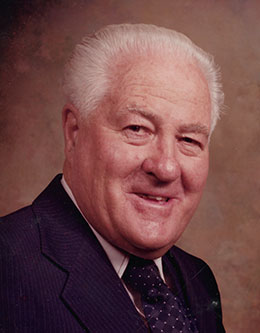 Ivan J. Barrett
Ivan Junius Barrett was born April 4, 1910 in Mendon, Utah. As a young man, he served as a missionary for The Church of Jesus Christ of Latter-day Saints in the Central States Mission. There, he met another missionary named Minnie Rogers, whom he married in June of 1933. He then went to Utah State University to earn a bachelor's degree, followed by a master's degree from Brigham Young University.
Ivan J. Barrett became a prominent author, professor, and historian for the Church and for BYU. He began working for the Church Educational System and started the first LDS seminary in Nevada. He also served as the principal of the seminary in Hurricane, Utah. He became a religion professor at BYU in 1953 and taught for forty years, during which time he was awarded the Karl G. Maeser Teaching Award and was named Most Popular Teacher. He wrote many books, including Heroic Women of Mormondom; Lot Smith, Mormon Raider; Trumpet of God; Eph Hanks; and Young Joseph Smith. He also authored Joseph Smith and the Restoration, a textbook that was used for many of BYU's religion courses.
Ivan J. Barrett also served extensively in Church callings. He served as a branch president, a bishop and a stake president at BYU, a patriarch for three BYU stakes, the president of the Northwestern States Mission from 1964 to 1966, and a sealer in the Provo Temple. He and his wife, Minnie, also served as special representatives of the Church in Israel.
Musically gifted and talented in the dramatic arts, Ivan J. Barret had his own radio program in Cedar City in the 1940s. He also participated in theatrical productions at BYU and was known to perform for many weddings, funerals, and church services.
Ivan J. Barrett passed away August 16, 1999 at his home in Orem. He and his wife, Minnie, who passed away only three months after him, had five daughters. At the time of their deaths, they also had 23 grandchildren and 14 great-grandchildren.
Brother Barrett's BYU devotional addresses include an insightful look at the friendly characteristics of the Prophet Joseph Smith as well as a call to more diligently emulate the qualities of the Savior Jesus Christ.
---
---