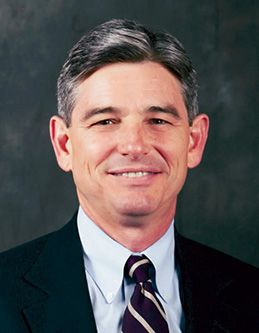 J. Craig McIlroy
J. Craig McIlroy was president of the BYU Alumni Association from 2006 to 2007. Serving in this position, he made an incredible impact on the students and alumni of the university, encouraging all to "learn to be good stewards of the Spirit of the Y" ("This I Believe", April 2006). In each of the four commencement addresses he delivered to the four different graduating classes, President McIlroy taught powerful principles. He reminded graduates to have firm beliefs, to take value in the opportunity to choose, and to realize their divine potential as children of God and as divine beings having an earthly experience. He encouraged all graduates to keep BYU in their hearts and to serve generously to enable future students to have an excellent experience at the university.
In 1980, President McIlroy received the request to organize and begin BYU's Hosting Services. Years later, President McIlroy led the BYU Alumni Association during the completion of the Gordon B. Hinckley Alumni and Visitors Center, which was constructed at the north entrance of campus. The construction of the Visitor's Center meant much to him, and he was grateful to see how much the program he started had progressed in such a short amount of time.
President McIlroy is well-known for his positive attitude and his determination to accomplish whatever he sets his mind to. He has a firm belief in achieving the seemingly impossible, and he used this motivation to push the Alumni Association to new heights during his presidency. For several years, he and his wife were chairs for the alumni chapter in Denver, Colorado. Under their leadership, this organization flourished, and all of the separate committees were able to work together in ways they never had before. His passion for greatness was reflected in all he did during his time as president of the BYU Alumni Association. This passion continues to propel him forward in his work today.
---
---