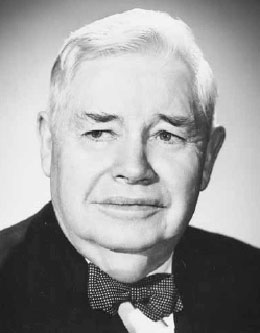 J. Reuben Clark Jr.
J. Reuben Clark inherited a legacy of sacrifice, both for the gospel and for learning, from his dedicated parents. His father was drawn to The Church of Jesus Christ of Latter-day Saints while travelling through Utah as a trapper and freighter; he attended a meeting and within several weeks was baptized. His mother was born on the plains as her pioneer parents trekked across the West with the Saints.
The couple settled in the small farming town of Grantsville in the Utah Territory and there they welcomed the birth of their first child, Joshua Reuben Clark, on September 1, 1871. He was the oldest of ten children and, though funds and schooling opportunities were limited, his parents had a love for education and tried to make every opportunity available to their children. They filled their home with books and music. Joshua Reuben was taught to read and write by his mother so he could skip to the third grade when he finally began formal schooling at age 10. He also learned the flute and piccolo and played for various bands, participated in drama, and kept up active hobbies such as swimming and sledding. Because there was no high school nearby, he went through the eighth grade three times—simply because he wanted to be in school rather than not.
When he grew older, J. Reuben Clark attended the University of Utah to finish the requirements for his high school diploma and receive a bachelor of science degree. He finished both sets of requirements in four years, all while serving as the student body president, overseeing the school newspaper as the managing editor, and working as a secretary to university president Dr. James E. Talmage. He was the valedictorian of his class.
In 1898, J. Reuben Clark graduated and married Luacine Annetta Savage in the Salt Lake Temple, with Dr. Talmage officiating the ceremony. Clark spent the next four years as a teacher and administrator before moving with his family to New York City in 1903 to enter the law school at Columbia University. By the end of his second year there he was admitted to the bar, and in 1906 he received his LLB degree.
Only three months after graduation, Clark was appointed as assistant solicitor of the State Department by the Secretary of State. He also served as an assistant professor of law at George Washington University for a short time and was appointed solicitor for the State Department in 1910. In that role, he successfully represented the United States in a dispute with Chile. He left the State Department in 1913 to open law offices in Washington, D.C., specializing in municipal and international law. His clients included the Cuban Legation, the Japanese Embassy, the Guatemalan Ministry, and several major corporations. During World War I, he helped to prepare the original Selective Service regulations as well as a document of "emergency legislation and war powers of the President." For his wartime service to the country, he was awarded the Distinguished Service Medal. He then served as the undersecretary of state in 1928 and the ambassador to Mexico in 1939. U.S. President Hoover said that relations with Mexico had never been higher in confidence and cooperation than during the time of J. Reuben Clark's ambassadorship.
Reuben Clark's service took on a different role when, in 1933, he was called to the First Presidency of the Church. He served in that presidency under Heber J. Grant, George Albert Smith, and David O. McKay. His contributions to the Church included leading support efforts for the development of the Church welfare plan, helping budget the finances of the Church, and writing several scholarly books on gospel topics. He served in this capacity until he passed away on October 6, 1961.
President J. Reuben Clark's scholarly and spiritual influence on Brigham Young University is immense, as seen by his name on the university's prestigious law school. He was an inspirational and powerful speaker, as evidenced by these BYU devotionals. Though he was a scholar with a passion for learning and questioning, his faith was simple, clear, and potent, and his messages continue to build the faith of BYU students, faculty, and friends.
---
---