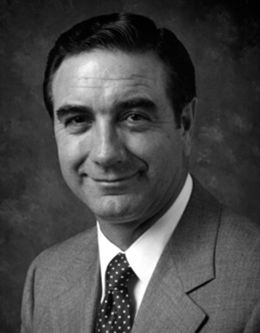 J. Richard Clarke
A Rexburg, Idaho-native, John Richard Clarke was born on April 4, 1927, to John and Nola Redford Clarke. Later, his missionary service would lead him to the other side of the world. As a young man, Elder Clarke served in the South Africa Cape Town Mission. After completing his mission, he returned to Rexburg to study at Ricks College. There, he met Barbara Jean Reed, a farm girl from the neighboring town of Ririe, whom he later married. Years later, with Barbara at his side, Clarke was able to return to the Cape Town Mission—this time as mission president.
In 1952 Clarke received his bachelor's degree in marketing from Brigham Young University and went on to work in the sales department of the Mutual Life Insurance Company of New York, where he quickly moved up to management positions. Because he had been instrumental in building the Boise firm of the insurance company, he subsequently became their general manager.
Despite his demanding career, Clarke always put his family first. He and Barbara had eight children, and, while living in Boise, the Clarke family bought thirteen acres of land and worked together to raise purebred cattle and thoroughbred Arabian horses. Clarke himself had no experience in such a business, but his goal was not just to raise livestock—it was to raise responsible children.
J. Richard Clarke was also dedicated to Church service. Aside from serving as mission president, he was also a bishop, stake president, and regional representative in Idaho. In 1976 he was called to be the second counselor in the Presiding Bishopric and served in that capacity until 1985, when he was sustained as a member of the First Quorum of the Seventy. Elder Clarke served in the Presidency of the Seventy from 1988 to 1993 and was given emeritus status in 1997. His Church service continued as he and Barbara were the president and matron of the Laie Hawaii Temple from 1998 to 2001.
Describing himself, J. Richard Clarke says, "I'm just a plain vanilla sort of guy." However, anyone who reads his BYU devotional addresses probably wouldn't agree—Clarke's stories, humor, and testimony reveal a man who loves learning, loves his family, and loves serving the Lord.
---
---