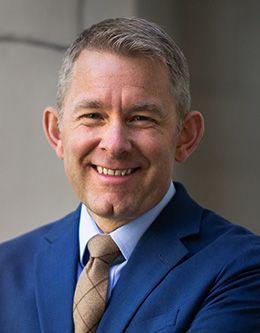 J. Spencer Fluhman
Dr. J. Spencer Fluhman is well known for his contributions to the field of Mormon studies—research that dives into the depths of the history, doctrine, and culture of The Church of Jesus Christ of Latter-day Saints. He graduated from BYU with his bachelor's degree and earned his master's and doctoral degrees from the University of Wisconsin–Madison, where he studied history.
Dr. Fluhman teaches at his alma mater, Brigham Young University. He has taught classes on religious education, American religion, U.S. history, and Utah history. In 2013, Dr. Fluhman was invited to serve as the editor-in-chief of Mormon Studies Review. He has contributed several written works in his various fields. He has been featured in the New York Times, Journal of Religion and Society, Journal of Mormon History, BYU Studies Quarterly, and Mormon Historical Studies. He is the author of "A Peculiar People": Anti-Mormonism and the Making of Religion in Nineteenth-Century America, which was published in 2012. In 2013, Dr. Fluhman won the Mormon History Association's Best First Book award.
Dr. Fluhman is currently the executive director of the Neal A. Maxwell Institute for Religious Scholarship. The Institute for Religious Scholarship publishes works for both LDS and non-LDS audiences regarding history, culture, and doctrine of The Church of Jesus Christ of Latter-day Saints. Their mission is to help everyone have an opportunity to expand their mindset, catering specifically to those "disciple-scholars" who have open minds and hearts.
In his BYU devotional address, Dr. Fluhman addressed how the university can help individuals build the kingdom of God. He encouraged students to ask difficult questions and professors to never shy away from those questions. He reminded students that while they seek God, God is simultaneously molding them for the opportunities they will have in the future. Dr. Fluhman also reminded his audience that everyone has a place in Zion, even if it might not be immediately visible.
Dr. Fluhman and his wife, Hollie, enjoy living in the Provo area. Dr. Fluhman is a counselor in his stake presidency. His active presence on social media helps him share the gospel with those who may have an interest in it.
---
---