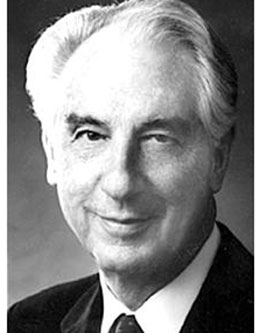 J. Thomas Fyans
Joseph Thomas Fyans was born on May 17, 1918, to Joseph and Mae Farnsworth Fyans. Although he hailed from the small community of Moreland, Idaho, Fyans' church and civic service would take him all over the world as he helped to build the Lord's kingdom.
As a young missionary, Fyans was called to serve in the Spanish American Mission, where he ministered to the Spanish-speaking population in the southwestern United States from 1940 to 1943. Upon his return, he married Helen Cook in the Salt Lake Temple. The two were fiercely devoted to each other and to their family; in a General Conference address, Fyans gave this tribute to his eternal companion: "In my lifetime of Church service, she has always smiled approbation and encouragement. No man could have a more congenial, supportive companion." They would become the parents of five daughters.
Fyans worked at the Zion Cooperative Mercantile Institution (ZCMI) for over twenty years, eventually becoming the general manager of the school office supply division. His career with ZCMI took a hiatus in 1960 when he was called to preside over the Uruguay Mission, which also included Paraguay. While serving as mission president, Fyans was privileged to witness the growth of the Church in that area of South America: he saw Church membership triple from 3,000 members to 10,000 during his four-year tenure. After being released from missionary service in 1964, Fyans returned to ZCMI for a brief period, but soon thereafter became a full-time Church employee.
In Uruguay, Fyans had seen the Church grow internationally first hand. As the director of the Church's Internal Communications Division, he was able to further this work. He oversaw the translation, printing, and distribution of all Church communications, materials, and periodicals, which shipped worldwide to help the Church bloom in areas where it was still relatively new.
In 1974, Fyans was called as the Assistant to the Quorum of the Twelve Apostles. He served in this position until 1976 when he was transferred to the First Quorum of the Seventy. As a General Authority, Elder Fyans was a member of the Presidency of the Seventy; was the Executive Director of the Genealogy Department; and served as president of the South America South Area. He was granted general emeritus status in 1989, but his service was not complete yet. He and his wife served as the St. George Temple president and matron from 1992 to 1995. Elder Fyans passed away in his home on May 18, 2008.
Throughout his life, Elder Fyans gave six devotional addresses at Brigham Young University. He excelled in teaching gospel principles through stories and analogies, and his talks have been a source of encouragement, guidance, and inspiration for generations of BYU students.
---
---