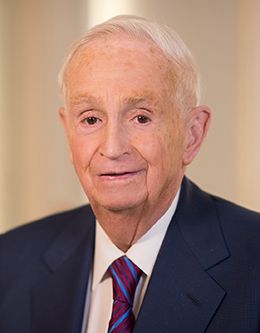 J.W. Marriott Jr.
For more than 40 years Bill Marriott has practiced his lifelong management style of including others in important decisions by asking "What do you think?" Those are, according to Marriott, the "four most important words in the English language." As executive chairman elect and chairman of the board of his family's hotel chain, Marriott International Incorporated, he feels that these words have been the root of the company's success. "It all harkens back to my father's commitment to taking care of the associates, and his endless striving for excellence at every level of the company," Marriott says.
Born in Washington, DC, in 1932, J.W. Marriott Jr. developed a passion for business at an early age as he worked a variety of jobs in his family's restaurant chain during his high school and college years. He would often wake up at four in the morning to begin his duties at the Hot Shoppe restaurant. After working his first job as a soda jerk and then as a deep fat fryer, he decided he wanted to join the company when he grew up because he loved the fast-paced lifestyle.
Marriott earned his bachelor of science in banking and finance from the University of Utah, served as an officer in the Navy, and officially joined his family's chain in 1956. Six months later, the Marriotts opened their first hotel, and when it began to struggle, Bill asked his father if he could take over management. He admitted that he did not know much of what to do, but his dedication to hard work led to success. In the following year, because of his excellent management of that hotel, Marriott was elected to be executive vice-president of the company's new hotel division.
It was during his senior year at the University of Utah that Marriott met Donna Garff, a freshman and the daughter of one of his professors. She caught his eye at a bus stop, and although she was already dating someone else, he nominated her to be sweetheart of his fraternity. She did not win, but it gave them a chance to be introduced to each other. Bill and Donna were married in 1955 in the Salt Lake Temple. They have four children and many grandchildren and great-grandchildren.
Today, the Marriott name is known worldwide as a global lodging company. As of 2018, the company owns 6,700 properties in 130 different countries in territories and is always expanding. What started as a family-owned root beer stand transformed into a cropping of beautiful hotels that now employ 700,000 people throughout the world. Marriott International is on Fortune's list of most admired companies and has repeatedly been listed among the top companies to work for. Marriott himself is dedicated to having a relationship with those who are a part of his company, so he visits between two and three hundred different hotels each year.
Despite these lofty accomplishments in the business world, Marriott's dedication to work has never come at the expense of his family or his faith. An active member of The Church of Jesus Christ of Latter-day Saints, he has served as bishop, counselor in a stake presidency, and as a general authority seventy. His missionary efforts have never been confined to his geographical area: a copy of the Book of Mormon is placed in every Marriott hotel room, and letters from grateful recipients who have joined the Church after their stay in a Marriott hotel have been received at company headquarters.
Marriott has served on the board of the J. Willard and Alice S. Marriott Foundation and is a member of the National Business Council and Executive Committee of the World Travel and Tourism Council. He served on the Board of Trustees of the National Geographic Society, as director of the United States Naval Academy Foundation, and as chairman of the Mayo Clinic Capital Campaign. He worked with the Obama administration to shorten visa wait times for travelers wanting to come into America, leading to a more vibrant job market. As a result, one new job is created for every thirty-five visitors who enter the country.
During an address at BYU (given in the very Marriott Center that was named in honor of his father), Marriott explained that the core values of his company have given him an edge over his competitors. He values putting people first, pursuing excellence, serving the world, embracing change, and acting with integrity. He also taught that any success he has seen was made possible because it was all founded on the gospel. Success, he has said, comes from opportunities we work to create as we "put the family first, and then the Church, and then your profession."
---
---