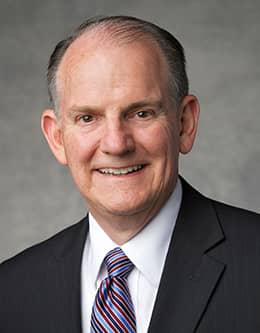 James B. Martino
When Elder James B. Martino was a senior in high school, he was baptized a member of The Church of Jesus Christ of Latter-day Saints. While Jennie Barron, his then girlfriend and future wife, did not understand or agree with his decision to join the Church, the pair kept in touch as they began their college journeys at different universities in Texas. Then, after his first year at the University of Texas, James was called to serve in the Guatemala El Salvador Mission. Despite Jennie telling him that she would not wait for him, they continued to keep in touch throughout his two-year mission. During that time, Jennie met with the missionaries and gained a testimony of the gospel. James baptized Jennie the week that he returned home from his mission. The couple transferred to BYU and were married in 1973 a year later when Jennie had been a member long enough to go through the temple. They are now the parents of five children. 
Elder Martino received his bachelor of science degree in business from BYU in 1974. After graduation, he began working for Russell-Newman Inc., an apparel company. He was president and CEO of the company from 1989 to 2000. He served as chairman of the company from 2003 until his retirement in 2009. 
Since joining the Church in 1968, Elder James B. Martino has served in numerous Church callings, including stake secretary, stake Young Men president, seminary teacher, bishop, stake president, and mission president. He was sustained as a General Authority Seventy of The Church of Jesus Christ of Latter-day Saints on April 4, 2009.  
In his BYU address, Elder Martino spoke about the importance of choosing to follow the Savior. "It is easier to make good choices," he said, "when we think about them in light of our eternal destiny."  
---
---