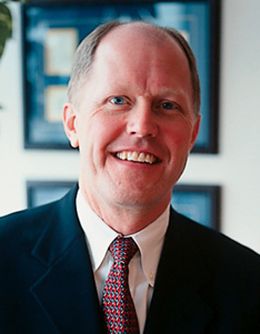 James D. Stice
James D. Stice earned bachelor's and master's degrees from BYU and a PhD from the University of Washington—all in accounting.
Brother Stice has been on the faculty at BYU since 1988. During that time he has been selected by graduat­ing accounting students as Teacher of the Year on numerous occasions. He was selected by his peers in the Marriott School to receive the Outstanding Teaching Award in 1995, and in 1999 he was selected by the university to receive its highest teach­ing faculty honor, the Maeser Excellence in Teaching Award. In 2000, BYU's MBA students voted him Professor of the Year.
Brother Stice has fulfilled numerous committee assignments at the department, college, and university levels, including serving as associate director of BYU's MBA program, .
Professor Stice has published arti­cles in the Journal of Accounting Research, Accounting Review, CPA Journal, Decision Sciences, Issues in Accounting Education, and other aca­demic and professional journals. In addition, he is coauthor of three text­books: Intermediate Accounting; Financial Accounting: Reporting and Analysis; and Accounting: Concepts and Applications.
In addition to his teaching and research, Brother Stice has been involved in executive education for such companies as IBM, Bank of America, and Ernst & Young.
---
---