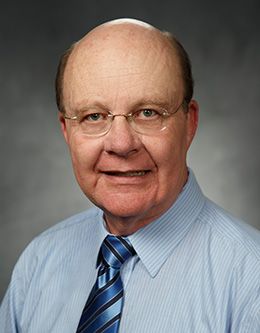 James M. Harper
Professor James M. Harper served as an associate dean in the College of Family, Home, and Social Sciences for several years and was also a coordinator of the mar­riage and family graduate program at BYU.
He received bachelor's and master's degrees from BYU and his PhD in counsel­ing psychology from the University of Minnesota. He is the author of numerous publications involving communication and interaction in families, emotional closeness in marriage, relationships between siblings, shame, the family therapy process, and pro­grams to strengthen the family. Dr. Harper has written two books, Uncovering Shame: An Approach Integrating Individuals With Their Family Systems and Sibling Positions and Birth Order in Individual and Family Therapy.
Active nationally with the American Asso­ciation for Marriage and Family Therapy, he has served on several national committees, most recently on the Judicial Council, which hears appeals of ethics decisions involving marriage and family therapists throughout the United States and Canada. On the state level, he has twice served as president of the Utah Association for Marriage and Family Therapy and has also served on that organization's board of directors.
Brother Harper has served as president of the Korea Pusan Mission; stake Young Men president; branch president at the MTC; deacons, teachers, and priests quo­rum advisor.
He and his wife, Colleen, are the parents of five children.
---
---