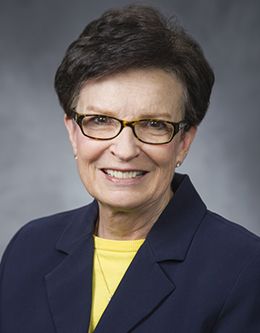 Janet S. Scharman
A Salt Lake City native, Dr. Janet S. Scharman graduated from the University of Utah with certification to teach French in grades one through 12. She later returned to the University of Utah and earned mas­ter's and doctoral degrees in counseling psychology. She has taught and counseled in Utah public schools and in Germany, where her family lived for three years.
Dr. Scharman is a licensed psychologist and is an associate clinical professor through BYU's Counseling and Career Center. She has taught classes in counseling and special education, student development, and religion. She was appointed assistant student life vice president and dean of students two years ago.
In 1997 she received the University of Utah Exemplary Womanhood Award, and Dr. Scharman later became an honorary member of the BYU chapter of Golden Key. She is president of the Association of Mormon Counselors and Psychotherapists; serves as a partner with Envision Utah, A Partnership for Quality Growth; and has been involved with the Governor's Initiative on Families Today (GIFT).
Her current areas of direct responsibility are Student Leadership, Services for Students With Disabilities, Multicultural Student Services, the Honor Code Office, the Student Honor Association, International Services, and Women's Services and Resources.
Dr. Scharman has served in Primary, Young Women, Relief Society, and Sunday School in her ward and stake. She and her husband, Brent, are the parents of a blended family of 10 children.
---
---