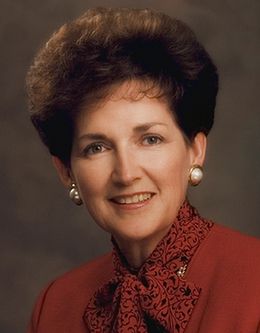 Janette C. Hales Beckham
Sister Janette C. Hales Beckham was born in Springville, Utah. She married Robert H. Hales in the Salt Lake Temple in 1955. He passed away in 1988, and she married Ray E. Beckham in 1995.
She served as the Young Women General President, in addition to serving on the Primary General Board and as a ward Primary president and a ward Relief Society president. She taught the Gospel Doctrine class for many years and has taught in all of the auxiliaries of the Church. She also has been an instructor at the Missionary Training Center.
Sister Beckham earned her bachelor's degree from BYU and served in the Utah State Legislature. She has been a civic leader and volunteer on many health and education projects. She is a fan of athlet­ics and has been on the board of directors of the National Cougar Club.
---
---