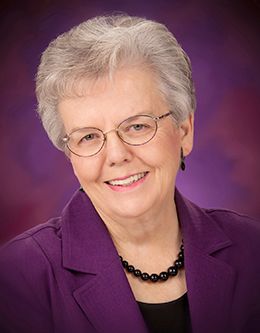 Janice Kapp Perry
Janice Kapp Perry was born in Ogden, Utah, and currently lives in Provo, Utah. She and her husband, Douglas Perry (deceased July 2018), have 5 children, 13 grandchildren, and 9 great grandchildren. They also had numerous foster children in their home through the years.
Janice received formal musical training at Brigham Young University where she played percussion instruments in the Concert Band and Orchestra.
In 1979 Janice released her first album of original songs, Where Is Heaven. Since the first album she has compiled an impressive list of productions. More than 2,000 songs, 105 recorded albums, 2 full-length musicals, 8 sacred cantatas, and albums in Spanish, Japanese, Portuguese, Korean, and Chinese. She composed the hymn As Sisters in Zion in the LDS hymnbook, and has ten songs in the Primary Children's Songbook. She has cowritten six albums of songs with Senator Orrin G. Hatch. One of those songs, Heal Our Land, was performed in Washington, D.C., at the National Prayer Breakfast in 2001; at the Presidential Inauguration in 2005; and at the Kennedy Center in 2018. She has published a book, Songs From My Heart: The Stories Behind the Songs, as well as 7 volumes of Inspirational New Hymns For Choir and Home (containing 227 hymns), and 38 new Book of Mormon hymns. She has two books published by Covenant Communications: A Songbook for LDS Families and Book of Mormon Heroes.
Janice's works have been performed by The Tabernacle Choir at Temple Square, The Mormon Youth Symphony and Chorus, country duo Brooks & Dunn, Gladys Knight, The Osmonds-Second Generation, at Robert Schuller's Hour of Power from the Crystal Cathedral, on the Oprah Winfrey Show after 9-11, and by countless other choirs and soloists throughout the world. What began as a simple home hobby has literally spread throughout the world and has involved the entire family. Author Joy Saunders Lundberg says, "Janice has been hailed by some as the most prolific composer in the history of the church–she is the musical phenomenon of our time."
In 1994 Janice received the Exemplary Woman award from Ricks College. In 1997 she received the BYU Alumni Distinguished Service Award. In 1998 she and Senator Hatch were awarded the National George Washington Medal of Honor from the Freedoms Foundation at Valley Forge for their album Freedom's Light. In 1999 the LDS Booksellers Association honored her with their Exceptional Merit Award. In 1999 the Utah/California Women presented her with their Heritage Award, and she received the Lifetime Achievement Award in 2001 from the Faith Centered Music Association (FCMA).
Janice sang in The Mormon Tabernacle Choir from 1993 to 1999. She and Douglas served a full-time mission to Santiago Chile from 2002-2003 and a three-year church service mission in a Spanish ward in Provo. She continues writing, publishing and recording new music. In 2009 BYUtv produced a sixty-minute documentary entitled Janice Kapp Perry: A Life of Service and Song. In a poll published in LDS Living magazine (January 2013) entitled "100 Greatest LDS Songs of All Time," Janice's song A Child's Prayer was #1. Seven of her other songs were in the top 27. 
---
---