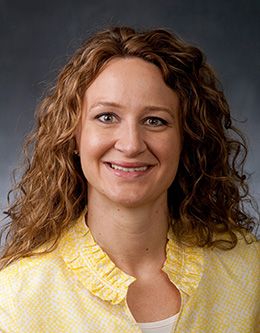 Janie Penfield
Janie Penfield is in her ninth year as the associate athletic director/senior woman administrator (SWA) at BYU. She currently serves as the sport administrator for men's and women's cross country, women's gymnastics, women's volleyball, and men's and women's indoor and outdoor track and field. She also oversees human resources, the spirit squads, and other internal operations and serves on a variety of campus committees, including the Homecoming Committee, the Women's Conference Committee, and the Honor Code Advisory Council.
From 2006 to 2010 she served on the NCAA Division I Women's Volleyball Committee. As SWA she serves as a representative to the NCAA and is a member of the West Coast Conference Executive Council and the Administration and Operations Cabinet. From 2003 to 2004 Penfield served as assistant to the athletic director in the BYU women's Athletic Department.
In 2003 Penfield graduated from the Marriott School with her MBA. She is a 2002 graduate of the NACWAA/HERS Institute for Administrative Advancement. Penfield coached Division I volleyball at Boise State from 1999 to 2001, competed as a professional volleyball player for Savonlinna AJO in Finland in 1999, and coached volleyball at her baccalaureate institution, Colorado State, where she also earned a bachelor of arts in English in 1998. She was a four-year starter on the Colorado State women's volleyball team.
The Thousand Oaks, California, native is one of seven children and an aunt to 13 nieces and nephews. She currently resides in Provo, Utah, and loves the ocean, nordic skiing, sewing, and reading.
---
---