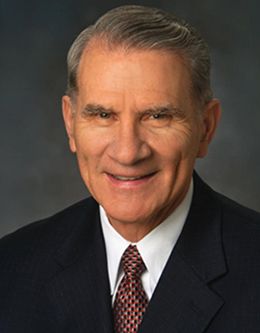 Jay E. Jensen
Elder Jay E. Jensen was born in Mapleton, Utah in 1942. The sixth child out of ten, he spent his youth learning from his older siblings and teaching his younger ones. He is grateful to have grown up in a family with so many children and believes that family roots are the most important things in life. Growing up, he learned the value of hard work by helping out on the neighbor's farm. He met his wife in the seventh grade while he was attending junior high in Springville, Utah. They became good friends and began dating in high school. After high school graduation, they decided to marry, but that decision was put on hold when Elder Jensen received a strong prompting to serve a full-time mission. He was called to the Texas and New Mexico areas, speaking Spanish. After he returned from his mission, they were married.
He had always wanted to teach, but it was his mission president who inspired him to become a seminary teacher. At BYU, he obtained a bachelor's, a master's, and a doctorate degree. He went on to work for the Church Educational System, where he taught seminary, wrote curriculum, and trained prospective seminary teachers. He did this until 1975, when he was called to be the president of the Colombia Cali Mission for three years. After this, he returned to the Church Educational System. He also worked as the director of training for the Missionary Department for a time. He served in Area Presidencies in Central America, South America, Canada, and the USA before receiving a calling to serve as a member of the Presidency of the Seventy. He received his call to full-time Church service in 1992. He was granted emeritus status in 2012.
Elder Jensen was instrumental in producing the LDS version of the Spanish scriptures. He worked tirelessly with a team of translators and other General Authorities to make the translation possible. His speeches delivered at BYU continue to edify students and faculty about the gift of the Holy Ghost and help them know how to better establish a foundation of faith in their lives.
---
---