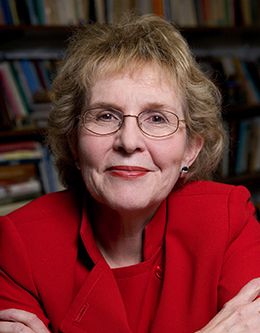 Jean Bethke Elshtain
Jean Bethke Elshtain was a political philosopher whose work shows the connections between our political and ethical convictions. She was the Laura Spelman Rockefeller Professor of Social and Political Ethics at the University of Chicago, a position she held since 1995. Prior to that she taught at the University of Massachusetts and at Vanderbilt University, where she was the first woman to hold an endowed professorship in the College of Liberal Arts in the history of that institution. She was also a visiting professor at Harvard and Yale. She received an AB from Colorado State University, an MA in history as a Woodrow Wilson Fellow, and a PhD from Brandeis University in politics.
Professor Elshtain held nine honorary degrees, and in 1996 she was elected a Fellow of the American Academy of Arts and Sciences. She has authored and/or edited twenty books and written some five hundred essays. Her book Just War Against Terror: The Burden of American Power in a Violent World was named one of the best nonfiction books of 2003 by Publisher's Weekly.
She was a contributing editor for The New Republic. She also served on the Scholars Council, The Library of Congress; on the Board of Trustees of the James Madison Program in American Constitutional Ideals at Princeton University; The Board of Trustees of the National Humanities Center; and the Board of the National Endowment for Democracy. Professor Elshtain was a Phi Beta Kappa Scholar for 1997–1998 and served as Vice President of the American Political Science Association for 1998–1999. She is also the recipient of the Ellen Gregg Ingalls Award for excellence in classroom teaching—the highest award for undergraduate teaching at Vanderbilt University.
---
---