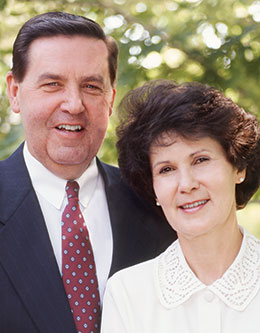 Jeffrey R. and Patricia T. Holland
While attending Dixie High School, Patricia T. Holland met "the smartest boy in school, who was also a terrible tease, and even though [she] couldn't stand him at the time, [she] had the strangest feeling, even then, that, when [she] was older, [she] would marry him." That boy was Jeffrey R. Holland, the academic and athletic all-star. Patricia also caught his eye, and the two began dating. Two years into their courtship, Jeffrey was called to serve in the British Mission. While he was away, Patricia studied at the LDS Business College and Dixie College. Thirty days after his return, the two were engaged.
However, the very day after their engagement, Patricia flew to New York to study music at The Juilliard School. Their love endured, despite their prolonged separation, and on June 7, 1963, they were married in the St. George Temple. Patricia and Jeffrey later became the parents of three children—Matthew, Mary Alice, and David—but in 1980, their parental influence grew exponentially when Jeffrey was appointed to be president of Brigham Young University.
They had three children, who recall that faith was always incorporated into everyday life at home. At times, especially when Elder Holland was serving as a university president and Sister Holland was serving on the Young Women General Presidency, it was very difficult to ensure quality time at home. Husband and wife supported one another, as did parents and children, and the result was that the Holland children felt their parents were available whenever they needed them.  In a unique devotional at Brigham Young University in 1985, one of the special addresses in which Elder and Sister Holland spoke side-by-side, they tenderly expressed their reliance on one another's constant support through those daunting early years and well beyond.
---
---