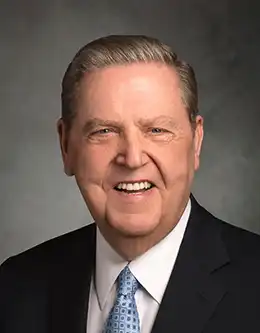 Jeffrey R. Holland
of the Quorum of the Twelve Apostles
Life & Family
Born December 3, 1940, in St. George, Jeffrey Roy Holland was a force for good from an early age. He inherited seemingly unending selflessness from his mother and his father's Irish wit. Others noticed that he had the ability to influence his friends and always set the example of balancing fun and gospel living. He was athletic, participating in varsity teams at Dixie High School and Dixie College. Through his participation in high school sports, he got to know a cheerleader named Patricia Terry. They dated for two years, and then with Patricia's encouragement, he decided to serve a mission. He counts his service in the British Mission as a major spiritual turning point in his life and recalls that his mission president, Marion D. Hanks, had a profound influence on him. 
When Elder Holland returned from his mission, he married Patricia in the St. George Temple. In a unique devotional at Brigham Young University in 1985, one of the special addresses in which Elder and Sister Holland spoke side-by-side, they tenderly expressed their reliance on one another's constant support through those daunting early years and well beyond.1 They had three children, who recall that faith was always incorporated into everyday life at home. At times, especially when Elder Holland was serving as a university president and Sister Holland was serving on the Young Women General Presidency, it was very difficult to ensure quality time at home. Husband and wife supported one another, as did parents and children, and the result was that the Holland children felt their parents were available whenever they needed them. 
Education & Career
Elder Holland had discovered on his mission that the Lord wanted him to be a teacher. He earned a bachelor's degree in English and a master's degree in religious education from Brigham Young University. After several years of teaching in the Church Educational System, he and his family moved to Connecticut, where he earned a master's degree and doctorate in American studies at Yale University. While at Yale, he also served in a stake presidency, through which he said he was schooled in Church government. This "schooling" prepared him to serve in two more stake presidencies and as a regional representative before being called as a General Authority. 
After serving as the Church commissioner of education and the dean of the College of Religious Education at BYU, Jeffrey R. Holland became the ninth president of the university in 1980 and presided until 1989. His vision for the school was contagious and powerful: "We must never lose sight of the spiritual armor that ought to be fortified and polished in every course on this campus, armor that will let us serve well in the world but not be too enamored by it."2 Among his many contributions to BYU, the Jerusalem Center for Near Eastern Studies was established and constructed during his tenure. President Holland met the challenge of visiting personally with protestors of the project to assure them that the center would not be used for proselytizing, and thanks to his efforts, the land lease was signed in 1988. 
Along with his contribution to BYU as president, Elder Holland was also the president of the American Association of Presidents of Independent Colleges and Universities, on the board of the National Association of Independent Colleges and Universities, and a member of the NCAA Presidents Commission. He served on the boards of numerous business and civic corporations, authored nine books, was named a Distinguished Eagle Scout by the Boy Scouts of America, and was awarded the Torch of Liberty by the Anti-Defamation League of B'Nai B'rith for his work in improving understanding between Christians and Jews. He has authored several books, one of which he co-authored with Sister Holland.
Church Service
In 1989 Jeffrey R. Holland left BYU to respond to the call to be a member of the Seventy. Five years later in 1994, he became a member of the Quorum of the Twelve Apostles. His testimony of the Savior Jesus Christ, the Restoration of the gospel, and the power of faith is impressive and unwavering, and his remarks are eagerly anticipated by members and friends of the Church for their insightful potency. His wife says of him, "He believes—he believes in people, he believes in God, he believes that our Father only wants good for us."3 
When Jeffrey R. Holland was called to be an apostle for The Church of Jesus Christ of Latter-day Saints, his brother Dennis remarked that he was not surprised: "All Jeff ever wanted to do was teach the gospel to students in a classroom," he said. "I was always sure that the Lord had the same goal in mind for him, but that the size of the classroom and the number of students were on a much grander scale than he was envisioning."4 Elder Holland's uniquely bold, passionate, and eloquent, yet down-to-earth style of teaching the gospel of Jesus Christ has opened minds, touched hearts, and changed lives. 
[1] Jeffrey R. and Patricia T. Holland, "Some Things We Have Learned—Together," BYU devotional address, 15 January 1985 
[2] Office of the President, "Jeffrey R. Holland," http://president.byu.edu/content/jeffrey-r-holland 
[3] Don L. Searle, "Elder Jeffrey R. Holland: Of the Quorum of the Twelve Apostles," August 1995 
[4] Searle 1995 
---
---