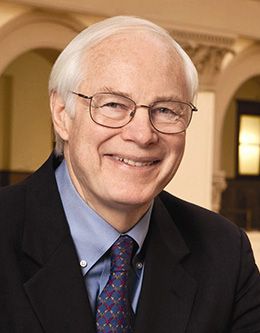 Jim Leach
Jim Leach served as the ninth chair of the National Endowment for the Humanities before accepting an appointment as the inaugural University of Iowa Chair in Public Affairs and Visiting Professor of Law in the College of Law.
Mr. Leach graduated with honors from Princeton, received an MA from the School of Advanced International Studies of Johns Hopkins, and did additional graduate studies at the London School of Economics. He holds 13 honorary degrees, has received decorations from two foreign governments, and is the recipient of the Wayne Morse Integrity in Politics Award, the Adlai Stevenson Award from the United Nations Association, the Edger Wayburn Award from the Sierra Club, the Norman Borlaug Public Service Award, and the Woodrow Wilson Medal from Princeton.
Prior to heading the NEH, Leach was a professor at the Woodrow Wilson School at Princeton and interim director of the Institute of Politics and lecturer at the Harvard Kennedy School. Leach's brief stint in academia was preceded by 30 years of service as a representative in Congress, where he chaired the Banking and Financial Services Committee, the Subcommittee on Asian and Pacific Affairs, and the Congressional-Executive Commission on China.
Mr. Leach served on the International Advisory Committee of the Principal Financial Group, the board of several public companies and a series of nonprofit organizations, including the Century Foundation, the Carnegie Endowment for International Peace, the Kettering Foundation, Pro Publica, and Common Cause, which for a short time he chaired. He is a fellow of the American Academy of Arts and Sciences and the Council on Foreign Relations and formerly served as a trustee of Princeton University.
---
---