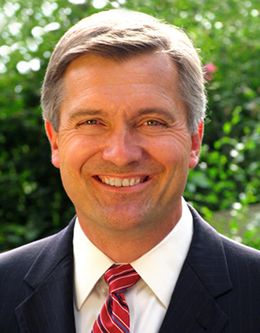 Jim Matheson
James D. Matheson represented Utah's 2nd district from 2001 to 2013 and its 4th district from 2013 to 2015 in the U.S. House of Representatives. A member of the Democratic Party, he held the distinction of being the only Democratic congressman from Utah.
Matheson was born in Salt Lake City and obtained an AB from Harvard College and an MBA from the UCLA Anderson School of Management. His father, Scott M. Matheson, served as governor of Utah from 1977 to 1985.
Matheson was cochair of the Blue Dog Coalition, a conservative group of 25 Democrats in the House. He was also a member of the New Democrat Coalition. Matheson is relatively conservative by national party standards. In the National Journal ratings in 2010, he was more conservative than 51 percent of his colleagues (but more liberal than 49 percent), making him one of the most conservative Democrats yet a centrist overall.
Prior to entering politics, Matheson worked in the energy field for several different companies and studied environmental policy. He later started his own energy consulting firm. In 2015 he joined the law firm of Squire Patton Boggs as a lobbyist.
Matheson's wife, Amy, is a pediatrician and they have two sons, William and Harris.
---
---