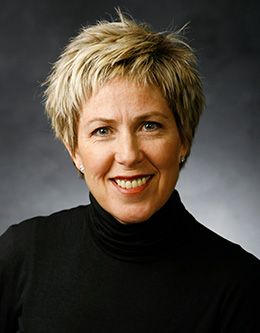 Jodi Maxfield
Even as a little girl in her hometown of Midvale, Utah, Jodi Maxfield always knew she would be a dance teacher. She danced as she grew up and then came to Brigham Young University, where, as a dance major, she danced with the BYU Cougarettes from 1976 to 1979. Her talent and leadership ability were evident when, as team captain, she often choreographed and coached to help out her overwhelmed coach.
After graduation Maxfield began coaching a drill team at her high school, Hillcrest. There she taught more technically challenging choreography than was typical of drill teams, a style that would become her hallmark. She then opened a dance studio with a fellow former Cougarette.
In 1990 Maxfield became the artistic director of the BYU Cougarettes. She oversaw the team's move from the Dance Department to the Athletics Department and played a key role in bringing the team onto the more competitive athletic stage while keeping the focus on dance. As the spirit coordinator, Maxfield works with Cosmo and the cheer squad, but she doesn't let athletic commitments overshadow artistic performance. She incorporates difficult choreography from versatile styles of dance and has been among the vanguard in bringing this kind of artistry to the collegiate dance team.
Under her direction, the Cougarettes have won sixteen national titles, including five for hip-hop and twelve for Maxfield's innovative choreography. The team appeared in Dance Spirit magazine as a top-25 collegiate dance team, and Maxfield was named one of the nation's outstanding directors in 2003 and 2004. Even greater, however, is the attention she and the Cougarettes have received for their friendliness, high standards, and the way they share their testimonies through their performances.
Maxfield's testimony of the gospel of Jesus Christ and the importance she places on serving others is evident in her work as well as in the wisdom she has given to BYU students. She encourages students to reach out and rescue others, whether through their talents, a listening ear, or an act of kindness. She believes in setting and reaching high goals physically and spiritually.
Maxfield is married to John Scott Maxfield, whom she met as a BYU student. They have three children and a growing number of grandchildren.
---
---