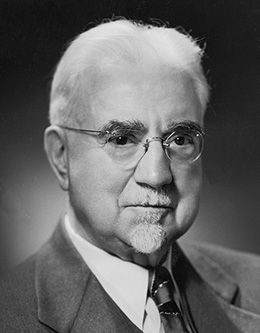 John A. Widtsoe
Elder John A. Widtsoe was born on the small island of Frøya in Sør-Trøndelag, Norway, in 1872. Doctors questioned his chances of survival as a baby due to a rare condition in which his wrist was attached to the side of his head at birth. Thankfully a surgical procedure allowed his wrist to be detached from his head. This early miracle would prove beneficial not only to the Widtsoe family but to the world, which he would greatly bless through his work as a scholar, father, leader, and scientist.
When Elder Widtsoe was two years old, his father unexpectedly passed away. This prompted his mother, Anna, to move with her two sons to Trondheim, Norway, to live closer to family. It was in this city that the Widtsoes were introduced to The Church of Jesus Christ of Latter-day Saints by a shoemaker who left missionary pamphlets inside of each shoe he worked on. When she read the pamphlets, Anna's curiosity was piqued. She came to meet with the missionaries and felt for herself that what she was being taught was true. The family's conversion to the gospel was not well received by neighbors and friends, so Ana decided to emigrate from her home to the United States with a small group of Norwegian saints who were traveling to Zion. Elder Widtsoe was baptized after they reached the Utah Territory.
Elder Widtsoe quickly mastered the English language and began a formal education, eventually enrolling in Brigham Young College in Logan, Utah. His hard work and dedication to his studies earned him a place at Harvard University, where he studied chemistry and graduated with honors in 1894. It was at Harvard that he met the woman who would become his wife, Eudora Dunford. She attended classes at Harvard for one summer, and they were sealed in the Salt Lake Temple in 1898. They had seven children, three of whom lived to adulthood.
Through his diligent energies and efforts, Elder Widtsoe began a successful career as a professor of chemistry at Utah State Agricultural College (now Utah State University) in Logan. His area of specialization was finding ways to make arid lands more fruitful for farmers. He spent four years as a professor of chemistry in the Agricultural College and then two years as a member of the BYU faculty. The John A. Widtsoe building stood in his honor at BYU for many years as the home of the College of Biology and Agriculture, replaced in 2014 by the Life Sciences Building.
In 1898, Elder Widtsoe was called to serve a mission in Germany. But this was not an average missionary calling—he was sent to Germany for his studies. While there he enrolled in the University of Goettingen, graduating with a PhD in biochemistry and continuing his studies in agricultural chemistry. He returned to the United States and served as the president of the Utah Agricultural College until being appointed president of the University of Utah, where he remained until his call to serve as a member of the Quorum of the Twelve Apostles in 1921. While he was an apostle, he was also called to serve as the president of the European Mission, where he dedicated Czechoslovakia to the preaching of the gospel.
Though he had been told many times throughout his life that people ought to retire once they reach the age of 65, Elder Widtsoe did not want to waste a moment of the time that he was given on earth. He served as associate editor of the Improvement Era, a predecessor magazine to the Ensign, and was a noted speaker and author well past his 65th year of life. He lived until 80 years of age and referred to himself as a perpetual student because he felt there was always more to learn about the world. He was a scientist, an academic, an author, and a Church leader whose devotion to hard work and excellence propelled a lifetime of service.
---
---