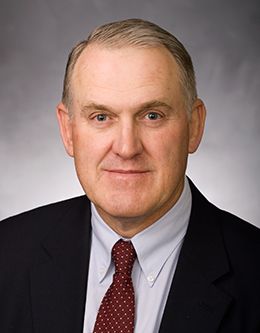 John E. Clark
Dr. John E. Clark's interest in archaeology began innocently at the age of six when his oldest brother helped him hunt for arrowheads around their house in Burley, Idaho. By the eighth grade his interest in artifacts eclipsed that in dinosaurs, and he decided to become an archaeologist. In high school he taught himself how to chip arrowheads and has studied and taught ancient technologies since that time.
While completing BS and MA degrees in anthropology at BYU in the 1970s, he became excited about Mesoamerican mythology and archaeol­ogy, especially Maya writing and calen­dar systems. With his wife, Sandy, and their seven-month-old son he took an opportunity in 1977 to work for the Church's New World Archaeological Foundation (NWAF) in Chiapas, Mexico. Four years and two daughters later the family moved to Ann Arbor, Michigan, to pursue further studies.
Dissertation research at the University of Michigan dealt with the origins of social privilege and the evolu­tion of stratified or civilized societies in Mesoamerica. This remains his interest and research focus.
He worked for the NWAF through graduate school and became its director in 1988, a position he still holds. He has done field work in southern Mexico or Guatemala for the past 27 years, princi­pally on the earliest village societies and cities. He joined the Anthropology Department at BYU in 1990 and since 1999 has also served with the Institute for the Study and Preservation of Ancient Religious Texts (ISPART).
The Clarks are the parents of four sons and two daughters.
---
---