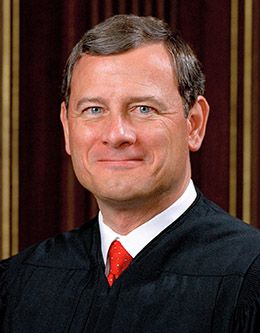 John G. Roberts
On September 29, 2005, John G. Roberts Jr. was confirmed by the United States Senate as the 17th chief justice of the United States. At 50 years of age he became the youngest chief justice since John Marshall took the bench in 1801 at the age of 45.
Born in Buffalo, New York, Roberts grew up in Long Beach, Indiana. He attended Harvard University, where he majored in history and distinguished himself academically, graduating a year early with highest honors.
Following graduation, Roberts attended Harvard Law School, where he was managing editor of the Harvard Law Review, graduating with high hon­ors. He was then hired as a law clerk for Judge Henry J. Friendly of the U.S. Court of Appeals for the Second Circuit. At the end of a year Roberts was hired as a clerk to then Associate Justice William H. Rehnquist of the Supreme Court (the man he eventually replaced as chief justice). When he finished his Supreme Court clerkship in 1981, he was hired by the Reagan administration, first as a special assistant to the U.S. attorney general and then as associate counsel to the president. Roberts served as principal deputy solicitor general from 1989 to 1993 and also worked in private practice. Roberts was nominated to the U.S. Court of Appeals for the District of Columbia Circuit by President Bush in January 2003 and was sworn in on June 2, 2003.
He and his wife, Jane have two children and live in Maryland.
---
---