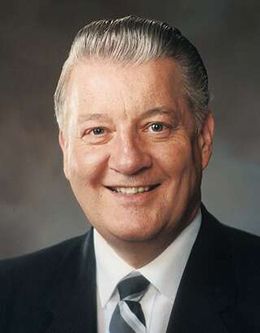 John H. Groberg
Elder John H. Groberg is widely known for his missionary experiences in Tonga during his early twenties. His experiences were so moving that, under the encouragement of then Elder Thomas S. Monson, he wrote a book about them. That book was then produced as the world-famous film, "The Other Side of Heaven". The miracles Elder Groberg experienced while serving in Tonga were often life-saving—more than once, he came close to death as a young missionary. However, there was more to his story than was portrayed in the movie, and a sequel was released in April 2019 that details more of his life after his mission and upon returning to Tonga later in life to serve as a mission president.
After returning home from his mission, he married Jean Sabin. Shortly after their marriage, he was made a bishop. Just ten years after his return from his mission in Tonga, he was called to return to his beloved country to serve as a mission president. Elder Groberg, his wife, and their five daughters set off for their next new adventure. Their next child, a son, was born in Tonga. He was born with a severe kidney defect and was taken back to Utah by Sister Groberg to receive treatment shortly after his birth.
After serving as a mission president, Elder Groberg was called as a Regional Representative to the South Pacific. In 1976, he was called as a member of the First Quorum of the Seventy. He and his wife have eleven children. His assignments to serve the people of Tonga greatly impacted his life, and the retelling of his stories and experiences has touched many hearts. During his devotionals at BYU, he shared many experiences from his mission and taught that serving the Lord faithfully will be a blessing to all who did so.
---
---