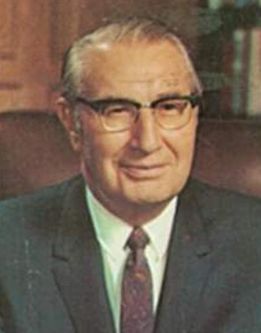 John H. Vandenberg
Born to a Dutch immigrant couple in 1904, Bishop John H. Vandenberg was taught from a young age to embrace hard work. He was the fifth child of Dirk and Maria Vandenberg, who came to Ogden, Utah, in search of new opportunities. As a young man, he felt particularly drawn to the study of business and finance. He graduated from Weber Academy (now known as Weber State University) in 1923 and immediately began work as an accountant for the livestock company John Clyde and Co.
Two years later, at the age of twenty-one, Elder Vandenberg was called to serve as a missionary in the Netherlands. It was there that he met his future wife, a convert named Ariena Stok. She immigrated to the United States after he completed his mission, and the couple was sealed in the Salt Lake Temple in 1930. They were the proud parents of two daughters.
Bishop Vandenberg's professional career then took him to Salt Lake City, where he worked in a sheep and wool merchandising firm. He stayed with this company and was eventually transferred to Denver, Colorado, where he continued working for the same firm. While living in Denver he served as stake mission president and as a counselor in the presidency of his stake.
In 1961, Bishop Vandenberg began his service as presiding bishop of the Church, a position which he would fill for eleven years. He was named assistant to the Quorum of the Twelve in 1972 and was then called to the First Quorum of the Seventy in 1976, receiving emeritus status two years later. Bishop Vandenberg served as a member of the Church Expenditures Committee, the General Priesthood Committee, and the Correlation Committee. He was also chairman of the General Scouting Committee, and, as part of his calling to be presiding bishop, presided over the Aaronic Priesthood of the Church. During his time as assistant to the Twelve, he managed the Church's Physical Facilities Department.
Bishop Vandenberg passed away in 1992 of natural causes at the age of eighty-seven. His lifetime of service in the Church sets an example for all of dedicated discipleship and selfless service.
---
---