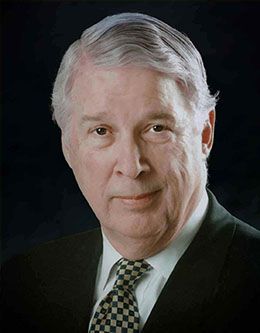 John Hughes
John Hughes, editor of the Deseret News and former editor of The Christian Science Monitor, is a Pulitzer Prize–winning journalist.
Hughes served for six years as the Monitor's Africa correspondent and six years as Far East correspondent before serving for nine years as the paper's editor. For three of those years he was both editor and publisher. He won the Pulitzer Prize for his coverage of Indonesia and the Overseas Press Club Award for an investigation into international narcotics traffic.
During the Reagan administration he served successively as associate director of the United States Information Agency, director of Voice of America, and State Department spokesman and assistant secre­tary of state for public affairs. In 1995 he served a one-year term as assistant secre­tary-general and director of communica­tions at the United Nations. Hughes has also chaired presidential and congressional commissions on international broadcasting.
Before becoming editor of the Deseret News, Hughes was a professor of journalism and director of the International Media Studies Program at Brigham Young University. He is on an extended leave of absence from BYU.
He writes a nationally syndicated column for The Christian Science Monitor.
---
---